South Korean construction firm SK ecoplant has acquired eWaste & IT Asset Disposal (ITAD) firm TES.
The construction subsidiary of the South Korean conglomerate SK Group this week signed an agreement to acquire 100 percent acquisition of the Singapore-based sustainable technology lifecycle solutions company for around $1 billion. The deal is expected to close in Q2 of 2022.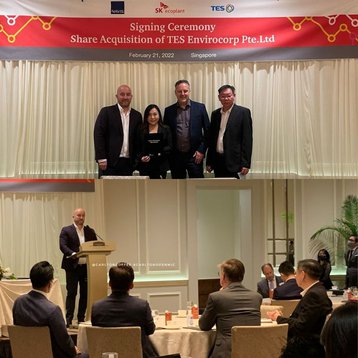 TES, part of the Navis Capital Partners portfolio since 2013, supplies eWaste management solutions to IT equipment manufacturers globally and offers ITAD, recycling, and data center decommissioning services. It owns more than 40 recycling centers worldwide.
SK ecoplant said the acquisition will allow it to diversify its waste management services and bring the company closer to zero-waste.
Park Kyung-Il, CEO of SK ecoplant, said: "The acquisition of TES will be a milestone for SK ecoplant to become a leader in the exponentially growing global sustainable IT lifecycle services market."
The increasing demand and scarcity of the metals used in electronic equipment have led to a rapid rise in prices, making it a lucrative business to get involved in, and one which needs a sustainable solution. According to Allied Market Research 2021, the eWaste management market is projected to reach almost $144 million by 2028.
"SK ecoplant's experience and shared vision of a more sustainable world make them the perfect partner for TES. The commitment represented by SK's investment reaffirms that, and we couldn't be more excited about working with them to offer sustainable technology solutions that drive the circular economy," said TES CEO Gary Steele.
Jean-Christophe Marti, the Senior Partner at Navis, added: "Under Navis's stewardship, TES has grown to become an industry leader with an excellent management team, robust operational processes that have raised the bar for ESG compliance across the industry, and a global network of facilities to serve its blue-chip clients. SK ecoplant, a leader in the Korean environmental services market, is ideally suited to help take TES to the next level."
The acquisition marks another large deal for SK ecoplant, after acquiring a group of waste management companies including Clenco, Daewon Green Energy, Saehan Environment, DDS, and Jinju Industry in 2021, on top of the 2020 acquisition of EMC Holding. As well as SK econet, the SK Group conglomarate includes SK Telecom.
In December Iron Mountain acquired ITAD & eWaste firm ITRenew for $725 million.