Singaporean fund manager AIMS APAC REIT (AA REIT) has acquired Woolworths' Sydney HQ and data center.
The fund closed the acquisition this week, acquiring the campus in Northwest Business Park in New South Wales for AU$463.25 million (US$336.8m) from Inmark Asset Management Pty Ltd.
The 44,911 sqm (483,400 sq ft) site on 1 Woolworths Way, Bella Vista was put up for sale in June. The site is 100 percent leased to Woolworths for at least another 10 years.
Set on nine hectares of land, the site was constructed in 2005 and comprises three separate office buildings linked by a central atrium. The campus includes office space, an on-site Woolworths Metro supermarket, gym, café, sporting facilities, and what is described as "a significant data center."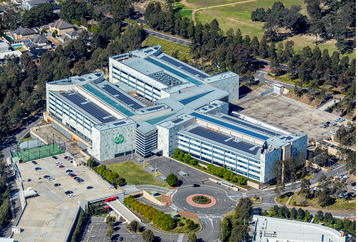 Inmark bought the supermarket property for a group of South Korean investors for AU$336 million (US$258 million) from Mirvac Group in 2016. There is also around 28,000 sqm (301,000 qs ft) of commercial office floor area available to be developed.
"This Proposed Acquisition will strengthen AA REIT's foothold in Sydney's resilient business park market," said George Wang, chairman of AIMS APAC REIT Management Limited, the manager of the REIT. "This is a transformational acquisition for AA REIT, representing the largest asset in the REIT's high-quality portfolio, and wholly-leased to one of Australia's largest companies listed on Australian Securities Exchange Ltd (ASX)."
The REIT said there is "immense potential to unlock value" as the property was designed to cater for future site expansion for additional buildings. Post-acquisition, Woolworths will become the largest tenant in AA REIT's portfolio. The AU$463.25 million figure does not include AU$31 million in transaction costs.
The company said it was financing a deal through a combination of debt financing and proceeds raised from a recent securities issuance, but may pay part of it through a combination of further debt financing, acquisition fee units, issuing securities, and/or new equity.
Following the completion of the acquisition, AA REIT will have a total of 29 properties, of which 26 properties are located throughout Singapore and the rest across Australia.
In 2014 the AA REIT acquired a 49 percent stake in the Optus Centre in Sydney's Macquarie Park from Stockland for AU$184.425 million (US$215m). In 2019 telco firm Optus signed a further 12-year term for the property.
Last year Woolworths announced it was utilizing Dell for its on-premise private cloud solutions, housed across two data center facilities in Sydney and managed by Dell.
Earlier this year Colliers and CBRE were listing 2 Woolworths Way, the company's 54,000 sqm (484,400 sq ft) distribution and logistics center, for sale.