Sify Technologies has announced that it will be investing Rs 2,692 crores (approximately $345 million) in new data centers in Noida, India.
The announcement was made at the Uttar Pradesh Investors summit held recently and confirmed via a Sify Technologies LinkedIn post stating "At the Uttar Pradesh Investors Summit held recently, Sify announced one of the largest investments in the Data Center space in India; INR 2692 crores to be invested in Noida, to begin with."
Noida, short for New Okhla Industrial Development Authority, is a planned satellite city of Delhi and part of the National Capital Region (NCR). It is already home to one Sify hyperscale data center, Greenfort, with 9.4MW of power and 55,000 sq ft (5,109 sqm) of raised floor space.
Further details of what we can expect from the investment were not disclosed.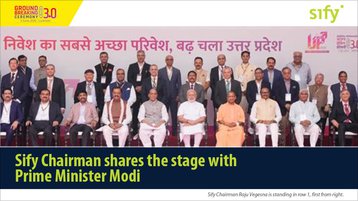 The announcement is in line with the company's 'road map' to build 200MW of data centers in India over the next four years, as revealed in September last year. The company currently has 10 operational data centers with 70 MW of IT power in key cities, including Rabale, Chennai, Airoli, Mumbai, and others.
Last week another company, Web Werks, reported that it would also be investing in a new hyperscale data center in Noida.
The company will be investing Rs 197 crore ($25 million approx) into a new data center with a gross power capacity of 20 MVA, alongside partner Iron Mountain Data Centers.
Construction will commence this year, and the facility is expected to be live for customers by 2023.
Meanwhile, the Kolkata tech hub is also receiving attention from data center investment.
Last week, it was reported that Adani will set up a hyperscale data center in the 'Bengal Silicon Valley' in New Town, with 51.8 acres allotted for the proposed project.
Industries minister Partha Chatterjee said of the plan: "The Adani Group had applied to the Housing Infrastructure Development Corporation for setting up a hyperscale data center. The cabinet has approved it. It will create more jobs and fuel economic growth."
Further details about the data center project have not been released.
In April, Adani Group chairman and founder Gautam Adani announced its planned investment of Rs 10,000 crore (approx $1.3 billion) in the state over the next 10 years in a variety of sectors, including port infrastructure, data centers, undersea cables, and more.
The move to build a new data center in the Kolkata tech hub comes after the company signed an MoU with the Tamil Nadu government to set up a data center in Chennai last November. The company also has data centers in NCR, Mumbai, and Hyderabad, with another in Visakhapatnam underway.