Green power company Simec Atlantis Energy has announced aq proposal for a data center using renewable tidal power, off the cold north tip of Scotland.
Simec's MeyGen tidal power station in the Pentland Firth, between the Orkney Islands and mainland Scotland, currently products 6MW, with plans to expand to 80MW. Engineering firm AECOM is conducting a feasibility study for the design of a data center connected to this power which could be built by 2024, and connected to high-speed international fiber optic cable connections.
Power and cooling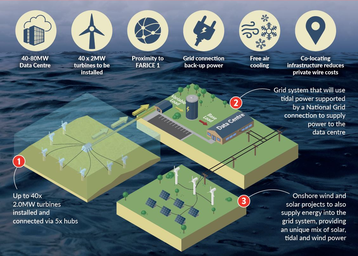 The world's electricity grids currently make very little use of tidal power, potentially a more continuous and dependable supply than solar and wind power which are intermittent. MeyGen is the largest tidal-power plant in the world, and it is believed that the proposed facility would be the first data center to be powered by the tide, via a private connection from MeyGen. The region's cold temperatures could also help with cooling,
The plan might "attract a hyperscale data center occupier to Scotland," said Simec's statement, adding that the area has "multiple international subsea fiber optic cables" with reliable connections to London, Europe, and the US.
The 2024 date lines up with Simec's plans to expand the Meygen site, but the current 6MW would be sufficient for a smaller, pilot data center.
"We believe Scotland can play a key role in the global data center industry," said Simec Atlantis chief executive officer Tim Cornelius in a press statement. He said the plan joined its sea-power plant with a data center operator "that seeks to provide its clients with a large amount of computing power, powered from a sustainable and reliable source.
"This project is leading the way in addressing the future decarbonization of the sector," said Sam Mackilligin, regional director at AECOM, said. "This study marks a vital step in acknowledging the gap between data centers and power networks and the way in which we can successfully bring the two together. This will not only generate a number of opportunities but also create a legacy in years to come."
Simec has also been converting a coal-fired power station in Wales to generate electricity from plastic waste. It put £7m ($8.6m) of corporate bonds for sale in August, to raise money by November.
On Friday, a floating data center in Ireland received approval, after opposition to the project was withdrawn.