Schneider Electric has announced two services to help maintain and monitor Edge sites using the cloud-based version of its EcoStruxure data center infrastructure management (DCIM) product.
A new monitor and dispatch service is designed to keep tabs on remote IT and operational equipment at small Edge sites, so hardware and technicians can be routed there efficiently when needed. Meanwhile, EcoStruxure IT Expert, part of Schneider's cloud-based management-as-a-service range, now has a public API (application programming interface) which allows it to interface with other management software.
Remote, but hands-on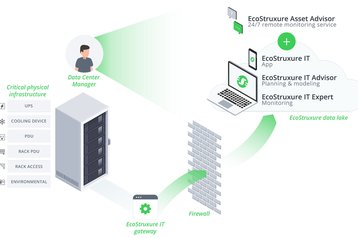 End users and Internet of Things (IoT) devices need fast services handled by local resources, leading to an expectation of a surge in tiny "Edge" data centers, which are too small and remote to have their own on-site technical support. Schneider has tiny modules of data center hardware in mind, like its own tiny wall-mounted unit, also sold under the EcoStruxure label.
The new monitoring and dispatch services lets partners rely on Schneider to monitor these sites remotely and apply troubleshooting on their behalf, using analytics from the EcoStruxure IT data lake. Problems are fixed using a next-business-day on-site service for any hardware or software issues, including replacing any parts needed.
Meanwhile, IT Expert is part of EcoStruxure IT, the cloud-based version of Schneider's EcoStruxure DCIM product, announced in 2017. IT Expert provides intelligent monitoring, alongside Asset Advisor and IT Advisor. It now has a new API which allows it to be controlled by any management platform, which Schneider says will also help to control remote resources.
With the new API, users can maintain a local store for performance data and build custom applications that react to changes in the system, allowing better efficiency and responsiveness.
Both services are intended to be used by Schneider's partners to support their own customers. The monitoring and dispatch can be added into partners' service portfolios, so they can offer remote monitoring, troubleshooting, and so on, and their customers' IT staff can reduce the operational cost of Edge resources, and handle multiple unmanned sites.
The partners can also integrate EcoStruxure IT into their preferred systems, and give their customers remote monitoring of power and critical infrastructure.
"With our global footprint and domain expertise in IT infrastructure, we are providing more options to enable our partners and end users to do what they do best and make it easier for an open ecosystem to effectively functiom," said Kevin Brown, senior VP EcoStruxure at Schneider Electric.
"We have been talking about releasing a public API in the past year, and this announcement of its availability for EcoStruxure IT Expert demonstrates our on-going commitment to solving efficiency and sustainability challenges with edge computing while also opening up new business opportunities for partners."
Monitoring and dispatch services are available in North America now, and will arrive in Australia, Austria, Germany, New Zealand, and the United Kingdom at the end of June, with other countries to follow during 2020 and 2021.
EcoStruxure IT Expert API is a subscription service, available globally in all markets, except China.
More from Schneider Electric (Life Is On)