Schneider Electric has launched a tiny Edge micro data center, which can be screwed to the wall and managed remotely with the EcoStruxure service.
As the name implies, the C-series 6U Wall Mount EcoStruxure Micro Data Center has a capacity of six rack units, and can be mounted on a wall. To emphasize that Edge hardware needs remote management, it bears the EcoStruxure management brand. Schneider also announced a vulnerability assessment service within its EcoStruxure service to reassure customers that these systems will be secure, even when installed in non-secured Edge locations.
Wall flower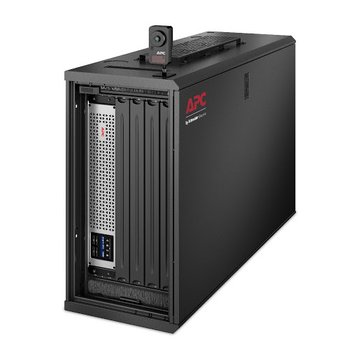 The C-Series 6U, announced at the company's Innovation Summit in Barcelona today, is designed to hold large Edge servers, consuming no floor space, and with dust filters and fan ventilation, as well as management built in for resiliency. It has shock packaging, so customers and integrators can pre-stock it with IT to be shipped to its eventual home.
Jim Simonelli, SVP emerging businesses, secure power division at Schneider, said it would "open up new possibilities to deploy resilient IT at the Edge," boasting that "no one else can provide the full, standardized IT infrastructure solutions that Schneider can."
Schneider's cloud-based monitoring and management software, EcoStruxure IT Expert, now includes a security assessment, which checks Schneider devices for vulnerabilities in their set-up, saving users time in finding threats, and helping them comply with policies quicker. A future version will examine equipment from other vendors.
The EcoStruxure brand now covers hardware as well as software and services: EcoStruxure Data Center Solutions now includes power, cooling, racks, and management. It includes self-contained remotely managed micro data centers for the Edge and row systems for installation in colocation spaces or enterprise data centers.
Both of these options are available in three versions: S-Series is the standard IT room build; C-Series is designed for commercial and office space, with sound proofing and wooden facings; and R-Series is the rugged version for harsh environment.
Beyond that, Schneider offers larger configurations including Pods, which integrate to building-level cooling and power, and modular systems which deliver the whole thing in one, up to a hall or building.
More from Schneider Electric (Life Is On)