The King Abdullah University of Science and Technology (KAUST) in Saudi Arabia plans to deploy a Cray CS-Storm 500NX supercomputer.
One of the largest research centers in the Middle East, KAUST will use the system for Saudi's strategic artificial intelligence (AI) initiative, as well as for smart city research.
GPU heavy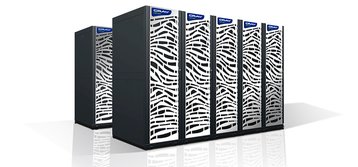 "Cray is honored to support KAUST's digital transformation agenda and tradition of science and technology excellence," Peter Ungaro, president and CEO at Cray, said.
"KAUST is beginning to apply more analytics and AI methods into its core research areas and converged workloads such as seismic simulation, machine learning and scientific computing, which require significant compute power and software optimization. The Cray-CS Storm is a production workhorse for accelerated, converged workload environments and will help drive KAUST's AI initiatives in the exascale era."
The Cray CS-Storm 500NX has an 8:2 ratio of Nvidia V100 Tensor Core GPUs to Intel Xeon Scalable CPUs. It uses the Mellanox ConnectX-6 HDR-100 Dual-Port VPI adapter.
"Cray's new GPU-accelerated system at KAUST is ideally suited to supporting the university's increasingly converged workloads," Ian Buck, Nvidia's VP & GM of Accelerated Computing, said.