The San Diego Supercomputer Center plans to use chips from Intel subsidiary Habana in its AI system Voyager.
Intel acquired Israeli Habana in 2019 for $2bn, replacing its AI-focused Nervana product line, which was also gained from an acquisition.
Voyager was funded with $5m from the National Science Foundation, which has also helped pay for other experimental AI systems at other labs, including ones featuring Cerebras, SambaNova, and Graphcore chips.
The AI boom means there are a flurry of new compute approaches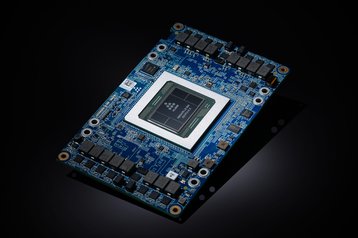 Voyager will feature 336 Habana Gaudi processors, which are built for AI training workloads. It will also use 16 Habana Goya chips, designed for inference, as well as Xeon CPUs.
Gaudi natively integrates ten 100-Gigabit Ethernet ports of RoCE v2 on the chip itself, in an effort to minimize throughput bottlenecks.
Voyager will be the first major deployment for Habana.
"With innovative solutions optimized for deep learning operations and AI workloads, Habana accelerators are ideal choices to power Voyager's forthcoming AI research," said Amitava Majumdar, head of SDSC's Data Enabled Scientific Computing division and principal investigator for the Voyager project.
"We look forward to [bringing] this uniquely efficient class of compute capabilities to the Voyager program, giving academic researchers access to one of the most capable AI-focused systems available today."
The servers themselves are from Supermicro, which has fit eight Gaudi HL-205 cards paired with dual-socket 3rd Gen Intel Xeon Scalable processors on each server.
"Combining Supermicro's advanced application-optimized server and storage hardware with Habana's AI training and inference products is the best solution for SDSC's multi-year Voyager AI project," said Ray Pang, vice president technology and business enablement, Supermicro.