Intel has ended development on its Nervana training chip, and is winding down development on its inference chip.
The move comes after Intel spent $2 billion on acquiring Habana Labs, a start-up that makes more powerful chips.
Nervana lives on in nirvana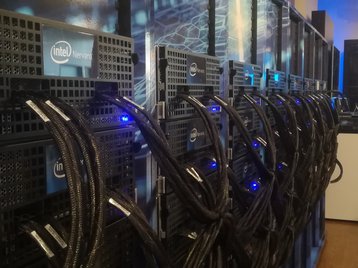 All development has ceased on the NNP-T AI training chip, while the NNP-I inference chip will be delivered to previously committed customers, before development is also ceased.
The move appears to have been a sudden one, with Intel holding a press event promoting the new Nervana chips just a few weeks before its purchase of Habana. Mere days before the December 16 acquisition, Intel demoed the Nervana processors at the NeurIPS conference in Vancouver.
Moor Insights & Strategy analyst Karl Freund revealed the decision to end the product line in a blog post, claiming that "Intel received feedback from its engineers and from large customers that the second Nervana designs, code-named Spring Hill and Spring Crest, just didn't pass muster for these high-performance workloads."
Recent benchmark tests had a single Habana Goya chip (from 2018) outperform two yet-to-be-released NNP-I processors. Intel spent around $400m on Nervana in 2016, and then put the company's CEO in charge of its new Artificial Intelligence Products Group.
It is not clear if AIPG head Naveen Rao was involved in the decision to kill his previous company's product. It is also not known if Habana Labs will become a part of the AI group, after Intel previously said the company would operate as an independent entity.
After Intel acquired automotive tech company Mobileye for $15.3 billion back in 2017, it was operated as an independent division, before being merged with the rest of Intel's Automated Driving Group.
Update: Intel sent DCD the following statement:
"After acquiring Habana Labs in December and with input from our customers, we are making strategic updates to the data center AI acceleration roadmap. We will leverage our combined AI talent and technology to build leadership AI products.
"We will bolster the current and next generation of Habana Goya and Gaudi with Intel's AI hardware and software innovations. The Habana product line offers the strong, strategic advantage of a unified, highly-programmable architecture for both inference and training. By moving to a single hardware architecture and software stack for data center AI acceleration, our engineering teams can join forces and focus on delivering more innovation, faster to our customers. As part of this update we plan to deliver on current customer commitments for the Intel NNP-I inference accelerator (code-named "Spring Hill") and cease development of the Intel NNP-T (code-named "Spring Crest").
"This roadmap decision aligns to Intel's AI Strategy and our commitment to deliver [heterogeneous] AI solutions that fit our customers' evolving power and performance needs – from the intelligent edge to the data center."