When Salesforce's director of sustainability, Patrick Flynn took to the airwaves recently, he could not have known that he was among, if not the, first to take the message of internet data centrality to all human endeavor today. And growing exponentially, with the data center sitting squarely as the "brains of this human species-wide nervous system."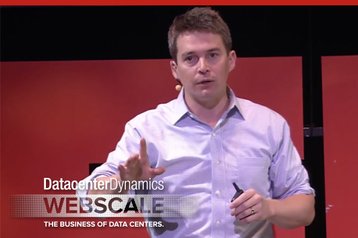 Flynn captured in his TEDx Talk that the data center sits at the center of the ability to "create a single web of interconnected information machinery," but goes on to point out the "moral" problem of the inefficiency "comatose (zombie) servers", and the requirement on the industry to address these issues.
The DCD Wescale conference will dedicate half a day of content to the issues of IT and data center efficiency and carbon reduction,"Patrick's TEDx Talk is the perfect opening of our conference coverage of the issues relating to server and data center efficiency and carbon reduction," says Bruce Taylor, DCD EVP. "It seems we've been hammering away at this for the past decade. However, it now has new credence driven by the COP21 agreements, the Net Zero movement, new initiatives by The Green Grid, ASHRAE, and the DOE."
"DCD is committed to both helping to drive greater IT and cloud data center efficiency," says co-founding CEO George Rockett, "as well as fostering conversation on how the era of the zettabyte actually presents the technological capabilities of addressing some of the planet's greatest and most intractable problems, with climate change principle among them." 
Big Discussions
A key addition to the DCD "peer conference" program design is the "Big Discussion" format which provides for smaller, more interactive and collaborative sessions. "In each track theme of the conference," says Senior Producer Giovanni Zappulo, "We've created a set of "big idea" topics where there's apt to be a widely divergent point of view."
Panels representing this dynamic tension will debate the issue before a private chamber of 40 peers, with time allowed for interaction with the peers, and voting at the completion of the session. Climate change is one of primary conversations of the conference."
DCD's new delegate registration model means qualified, end-user delegates will participate at no registration fee. – see details.