Russian Internet giant Yandex is reported to be considering moving to Israel, and selling off more parts of its business to avoid potential sanctions over Russia's war in Ukraine.
Yandex is in the process of selling its social media arms to Russia's Facebook equivalent, VK, but the Latvia-based independent Russian site Meduza says multiple sources have told it Yandex is looking for buyers for Yandex Search, Yandex.Mail, and the movie database Kinopoisk.
Meanwhile, the Israeli newspaper Calcalist says it has seen a letter from Yandex founder Arkady Volozh to Israeli ministers asking for concessions if Yandex were to move its company head office from Moscow to Tel Aviv.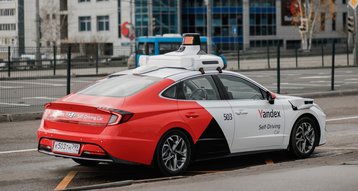 Yandex has told DCD it is not selling off its search and mail services, and also denied any plans to move to Israel.
The company has yet to come under formal sanctions by the EU, the US or other bodies, but electricity providers in Finland are refusing to provide power to Yandex's only data center outside Russia, in Mäntsälä. The facility is still running at a reduced level, on diesel generators.
Yandex is selling the Yandex News aggregator and the blogging platform Zen, both of which have been accused of spreading Russian propaganda and blocking reports from outside sources, to VK (VKontakte). It also accepted the resignation of deputy CEO Tigran Khudaverdyan, after he was sanctioned by the European Union, for contacts with Vladimir Putin.
Meduza says it heard from senior Yandex sources that Russian bank Sberbank, and the Rostec conglomerate were being considered as potential buyers for Yandex Mail and Search.
"There are no plans or negotiations about selling Yandex Search, Mail, and Kinopoisk," said a Yandex spokesperson to DCD. "The only deal currently in the works is a sale of News and Zen."
Rumors that Yandex could move some or all of its staff to Israel have been in circulation for some time. The company has some 450 staff in the country and operates services there including Yango Taxis and the Yango Deli food delivery service. It has also been testing autonomous vehicles in Tel Aviv.
In March, Haaretz reported that Yandex was considering moving 800 developers to Israel. Arkady Volozh himself has Israeli citizenship, granted under the Law of Return, and has lived in Israel since 2019.
It's been reported that Volozh is considering splitting Yandex into a Russian business and an international one, based in Israel.
Now Israel's Calcalist business newspaper says it has a letter from Volozh to Israel's premier Naftali Bennett and other ministers, saying: "I have made a decision to move the global Yandex headquarters to Tel Aviv and bring many hundreds of developers, engineers, and technologists to Israel."
To enable the move, Volozh is reported to have asked Bennett for permission for non-Israeli Yandex workers to move to Israel, and temporary travel documents which would allow in Russians that would otherwise be barred from working in Israel because of the war.
Yandex denied this story to DCD: "There are no plans to move the head office from Moscow, or to relocate the team from Moscow. Yandex has had an office and employees in Tel Aviv for many years already, working on the development of Yango, self-driving cars, educational projects, and other services. We continue to hire people across the group, including in Israel. Filling certain vacancies could involve relocation."
Israel has been criticized for being too neutral to Russia over the war in Ukraine. However, the two countries have their difficulties, including in April when Russian Foreign Minister Sergey Lavrov bizarrely said Hitler was Jewish and accused Israel of supporting antisemitism in Ukraine.
In Syria, the two countries support different groups in the civil war, and this week, Russian missiles were fired at Israeli jets over Syria.
In an unrelated move, Yandex CEO Elena Bunina resigned and relocated to Israel after the war broke out.