Data center server manufacturers, as well as consumer electronics goods makers, are shifting production capacity out of China, Nikkei reports.
Quanta Computer, Foxconn Technology and Inventec have all moved some server production out of China and into Taiwan, Mexico and the Czech Republic, the publication states. The companies made the change to avoid the possibility of additional tariffs and to alleviate customer concerns over US claims of national security risks.
Come up with a plan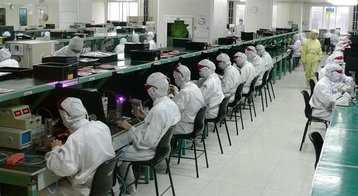 "After the tariffs on Chinese goods... took effect on Sept. 24, we started to manufacture and ship servers outside of China from October," an executive of a Taiwanese server manufacturer told Nikkei.
The report comes a few weeks after rumors surfaced that Google had also moved the manufacture of the majority of its US-bound motherboards from China to Taiwan.
Other companies that have either moved production, or are looking to move, their consumer tech production include HP, Dell, Microsoft, Sony, Lenovo, Acer, AsusTek and Amazon.
"The industry consensus is to move an average of some 30 percent of production out of China depending on how important the US market is... Everyone needs to come up with a plan," a supply chain executive told Nikkei.
Separately, server maker Supermicro started moving its manufacturing out of China - but in an effort to allay security concerns. Last year, Bloomberg claimed the company's supply chain had been compromised, and that the Chinese government had added spy chips to Supermicro's motherboards.
The rumor was forcefully denied - Apple went on to write a letter to the US Congress denying the story, while CEO Tim Cook and AWS CEO Andy Jassy called for Bloomberg to retract the article. Supermicro also hired a third-party investigations firm, Nardello & Co, to examine the veracity of the report, but it was unable to find any evidence supporting Bloomberg's claims. The US Department of Homeland Security also disputed the claim.
But the claims still spooked some customers, leading to Supermicro moving production.