Indian telecoms conglomerate Reliance Jio has announced it will build two submarine cables landing in India.
India-Asia-Xpress (IAX), will run from India across the Asia Pacific, connecting Mumbai and Chennai to Thailand, Malaysia, and Singapore. It will include options to extend to the Indian cities of Vizag and Kolkata, as well as Bangladesh and Myanmar.
The India-Europe-Xpress (IEX) cable will travel west, connecting Mumbai to Italy via Egypt and Oman. It will include options to expand to Greece, Cyprus, Marseilles, UAE, Saudi Arabia, Pakistan, Eritrea, and Djibouti.
East meets East and West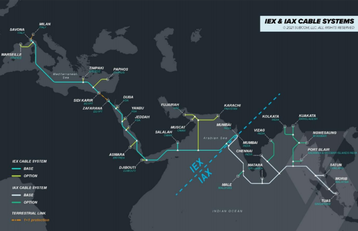 Jio says the cables will provide more than 200Tbps of capacity across over 16,000 km (9,900 miles). IAX is due to be ready for service in mid-2023, while IEX should be operational in 2024. The company is working with submarine cable supplier SubCom to deliver the cables.
"Jio is at the forefront of India's explosive growth in digital services and data consumption. To meet the demands of streaming video, remote workforce, 5G, IoT, and beyond, Jio is taking a leadership role in the construction of the first of its kind, India-centric IAX and IEX subsea systems," said Reliance Jio president Mathew Oommen.