Data center firm Digital Realty, investment firm Brookfield Infrastructure, and Indian conglomerate Reliance Industries Limited (RIL) are partnering to develop data centers.
The three companies this week announced a planned three-way joint venture (JV) to develop 'high-quality, highly-connected, and scalable' data centers in India.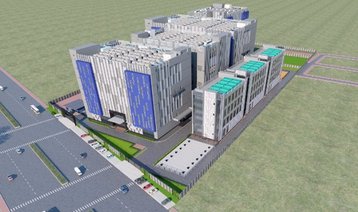 The new JV will operate under the brand name Digital Connexion: A Brookfield, Jio, and Digital Realty Company. Each partner will own one-third of the joint venture. Digital Connexion will have a dedicated management team in India, with leadership oversight from Digital Realty, Brookfield, and RIL.
Terms of the investment weren't disclosed, but it is expected to complete in the next three months.
Digital said the new JV "succeeds and builds on the strong foundation" laid by BAM Digital Realty, the previous India-focused JV between the data center firm and Brookfield.
The new Digital Connexion will continue to develop the two data centers BAM Digital was developing in Mumbai and Chennai.
The first 20MW greenfield data center (MAA10), on a 100 MW campus in Chennai, is expected to be completed by the end of 2023. The JV recently acquired 2.15 acres of land in Mumbai to build a 40MW data center.
RIL said its telco subsidiary Reliance Jio's fiber and wireless network "strategically expands" the JV's reach and connectivity to data centers and other establishments across the country.
Kiran Thomas, CEO, Jio Platforms Limited, said, "We are excited to partner with Digital Realty, one of the most innovative data center companies globally, and with Brookfield, our existing and trusted partner. The partnership will help us serve our enterprise and SMB clients with cutting-edge, plug-and-play solutions delivered from the cloud and lead their digital transformation and make them more competitive and efficient."
Digital Realty and Brookfield launched the 50:50 joint venture in July 2021 with the aim to build and operate facilities in "multiple Indian metros."
The companies paid $30 million for a 10-acre plot in Chennai in early 2022 and broke ground on a 20MW facility there earlier this year. That campus will eventually reach 100MW.
In August 2021, Brookfield acquired a 30-acre land parcel in Navi Mumbai for Rs 600 crore ($81m) from real estate developer K Raheja Corp, and reportedly plans to build a data center on the site. The JV acquired another 2.15 acres in the Chandivali area of Mumbai last month.
Arpit Agrawal, managing director, head of infrastructure, India & Middle East, Brookfield, added: "We are very pleased to expand our existing partnership with Reliance and add their deep expertise in the Indian telecom, tech, and data landscape to the platform. Data centers provide essential services and critical infrastructure to support the digitalization that is taking place in every aspect of life in India. Together with Reliance and Digital Realty, we look forward to providing the best of solutions to the digital transformation needs of Indian and global corporates."
Digital Realty and Brookfield Infrastructure also both own Latin American data center firm Ascenty, which has more than 250MW of capacity across 30 facilities in operation or development in Brazil, Chile, and Mexico.
Serene Nah, managing director and head of Asia Pacific, Digital Realty, said: "India is a mostly untapped market for the data center industry driven by the rapid adoption of digital business models, the world's largest population, and a government that recognizes the role of technology for future economic development. This joint venture brings together three global leaders in digital infrastructure to accelerate Digital India by developing, owning, and operating institutional quality carrier-and cloud-neutral data centers across India."
Shardul Amarchand Mangaldas acted as legal advisors, and Deloitte, Haskins & Sells LLP acted as accounting and tax diligence advisor to RIL.