UK managed services provider Redcentric has acquired UK colocation provider 4D Data Centres and provided more information on the status of the data centers it acquired from Sungard UK.
The company announced this week that it had acquired the entire issued share capital of 4D for a consideration net of cash and debt-like items of £10 million ($11.8m). The balance has been paid using a recently-signed £80 million ($94.6m) revolving credit facility.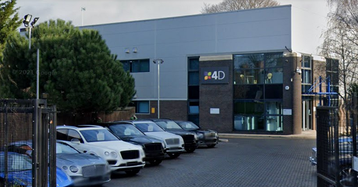 4D operates a 6,500 sq ft (603 sqm), 1MW data center in Byfleet, Surrey that opened in 2008, as well as a 10,000 sq ft (929 sqm), 3MW facility in Crawley, West Sussex it acquired from BT in 2016. The company also leases space in a Telehouse facility in London and a Custodian facility in Maidstone, Kent. Redcentric said the facilities have a weighted lease life of 3.3 years.
The company also provided more details on its acquisition of three Sungard data centers. Sungard UK folded in March 2022, blaming energy prices and landlords who refused to lower rents. While UK telco Daisy acquired a number of customers and workplace recovery facilities, Redcentric acquired part of Sungard's consulting business and three of its data centers.
Redcentric said the contracted revenue thresholds it had agreed to when it first announced the deal hadn't been met, meaning the original £11 million ($13m) price for the facilities was dropped to £10.12m ($12m). The initial consideration has been paid in cash using the same £80m credit facility.
The three data centers have a weighted average lease life of 6.4 years.
Despite previously operating at a loss, Redcentric said new contracts signed with customers means the facilities could become profitable within six months – the company has signed new contracts totaling £39 million ($46.1m) of revenue over the next 12 months.
The company said 162 Sungard DC customers (around 60 percent of the historical revenue base) had signed long-term contracts, ranging from twelve to sixty months. A further 57 Sungard DC customers (30 percent of the historic revenue base) signed short-term contracts, ranging from one to nine months.
The Sungard DC customers that signed short-term contracts are a mix of customers who are in the process of leaving Sungard and those who were unable to achieve authorization for a long-term commitment within the short timescales between exchange and completion.
Should any of the customers that initially signed short-term contracts agree to sign long-term contracts within 12 months of the date of completion of the acquisition, then Redcentric could pay up to an additional £11.4m, depending on the value of the contract.
There is up to a further £7.625m ($9m) in cash that may become payable based on certain performance criteria, but Redcentric said it is "unlikely" that the required criteria will be met.
Prior to these acquisitions, Redcentric operated four data centers in the UK in Harrogate, London, Reading, and Cambridge totaling more than 50,000 sq ft (4,650 sqm). Redcentric bought the City Lifeline data center in London for £4.8 million ($6m) back in 2016.
Peter Brotherton, CEO of Redcentric, said: "With these two acquisitions, we have now completed five acquisitions in the last nine months and totally transformed the company. We have added over 600 customers to our base and increased run rate revenues by circa 60 percent."
"The acquisition of Piksel has broadened our product offerings by adding full hyper-scale capability; the 7 Elements and Sungard consultancy acquisitions have significantly strengthened our security product portfolio; and the Sungard DCs acquisition has added new recovery-based services. We believe that we now have the most comprehensive IT and Telecommunications product and solutions offering in the market."