A March fire that damaged one floor of a semiconductor plant could take three to four months to recover from.
Japanese chip manufacturer Renesas Electronics said that the damage was greater than thought, and admitted that it could be difficult to get replacement equipment amid a global semiconductor shortage.
Already squeezed, automotive makers feel the crunch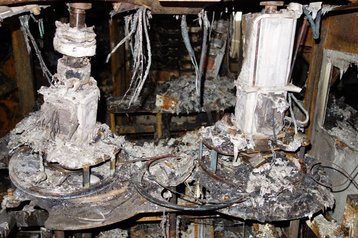 When the fire first abated, the company said that 11 machines were damaged, but in fact, 23 will need to be replaced, CEO Hidetoshi Shibata told reporters.
"We believe we will not see delays in the deliveries," he added, but said that it could happen - particularly with the high demand for the
It will take between 90 to 120 days to return to full capacity, the CEO said, despite a concerted effort by the Japanese government to help get the facility back on track.
The nation's automakers also sent workers to the site to help. Globally, the car industry was already one of the worst-hit by the chip shortage - and that has only been exacerbated by the fire, with Renesas a major automotive supplier. Shutdowns in Texas due to the winter storm also made things worse.
Prior to the incidents, automakers expected to produce 1.5 million fewer vehicles due to chip shortages.
The fire came just weeks after an OVH data center burned down.