Rack Centre is expanding its Lagos campus to 6,000 sqm (64,000 sq ft) to accommodate 13MW of IT power capacity.
Engineering firm Arup is overseeing the expansion and undertaking the construction works.
In March 2020, Actis, a London private equity firm, announced it was investing in Rack Centre, taking a controlling stake in the business alongside Jagal.
Data center platform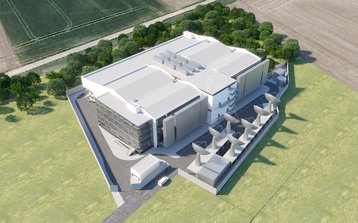 The funding for this particular expansion comes from a $250m Pan-African data center platform established by Actis and Convergence Partners, an infrastructure investor in Africa.
In addition to Rack Centre, the platform, currently unnamed, is developing additional buy and build opportunities across Africa, establishing a network of carrier-neutral data centers aimed at catering to carrier, cloud, and hyperscale customers.
Actis is the largest private equity investor in Africa having committed US$4.5bn to the region over the last 15 years.
The firm also is the lead investor behind the Chinese data center platform, Chayora Holdings.
Tim Parsonson, a co-founder of Teraco Data Environments, a carrier-neutral operator in Africa, joins the platform's board as chairperson.
The platform also hired Frank Hassett a previous VP of Infrastructure at Equinix, bringing over 1300MW of build and operate experience, to assist with hyperscale expansion.
Andile Ngcaba, chairman of Convergence Partners, said: "Africa is at the start of a critical time in its development, as the 4th industrial revolution offers the chance to leapfrog many of Africa's challenges and harness the immense potential of its people.
"Convergence Partners is delighted to partner with Actis in accelerating the growth of high-quality data center infrastructure, an indispensable part of the foundation of this revolution in the region."