Quantum Switch Tamasuk (QST) has secured full funding for its first data center, currently in development outside Dammam in Saudi Arabia. It has also started work on its second facility in the area.
QST was formed earlier this year by UK data center firm Quantum Switch and Saudi infrastructure investor Tamasuk. It broke ground on the Dammm facility, located in the King Salman Energy Park (SPARK) around September 2021. Due to offer around 7.5MW, the facility is set to be ready for commercial operations before the end of this year.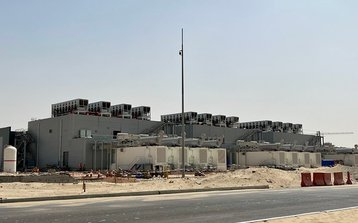 The new financing was structured and fully underwritten by French corporate and investment bank Natixis Corporate & Investment Banking (Natixis CIB), acting as Structuring Bank to QST. How much was raised hasn't been shared.
Tamasuk CEO Matthew Nathan said: "This transaction stands out for its innovative structure and is a strong testament to the banking sector's appetite for growth in the digital infrastructure space in Saudi Arabia, as well as their confidence in QST as a data center developer for international hyperscaler customers in the region. I am extremely grateful to the Natixis CIB team in the Middle East and their senior leadership for their belief and trust in QST."
Natixis CIB has since syndicated part of the loan to Allianz Trade and Riyad Bank. The financing arrangement has been specifically developed to accommodate future data centers into the existing structure, enabling more financing institutions to participate in financing future QST developments.
The companies said this will provide QST with a reliable source of debt capital to fund its anticipated growth in the region – an existing pipeline that could require up to $3 billion of capital over the next 4-5 years.
Bénédicte De Giafferri, global head of real assets Finance at Natixis CIB, added: "We are delighted to have led and distributed the project financing for QST. It represents our first data center financing in the region, a sector in which Natixis CIB has deep experience in globally. The portfolio financing structure was a perfect fit for our client's development pipeline, and we are excited to support QST's capital requirements in a space where we see tremendous growth potential. We are especially proud to have sourced an institutional investor financing, this area of liquidity is particularly important to us and offers both sustainability and continuity to future funding requirements for our clients."
In February, QST announced plans to develop 300MW of data center capacity for the Saudi Arabian government. As well as Dammam, local press report the company is also developing in Riyadh, Jeddah, and Neom.
QST said it has also started working on a second data center, also in Dammam, which is expected to be delivered in Q2 2023. Specifications weren't shared.
Fully owned by the Al Blagha Group, Tamasuk is a Riyadh-based Saudi infrastructure developer and investor. Founded in 2019 and based in the UK, Quantum Switch is led by former DigiPlex VP of Hyperscale Tim Bawtree.
CEO Bawtree said: "Quantum Switch exists to blend the best in data center design, technology, building and operations with innovative financial models and partnerships that allow us to bring new capacity on stream for our clients in new and emerging cloud regions at high speed. The SPARK facilities are proof of this concept in action."
Sustainable finance firm Mirova (part of Natixis Investment Managers) has previously partnered with Orange for its carbon fund to invest in carbon sequestration projects.