Quantum computing firm Rigetti is facing possible delisting from the Nasdaq stock exchange over the low value of its stock.
In a recent SEC filing, the company said it has been notified by the Nasdaq that the company's common stock had not maintained a minimum bid price of $1 per share, contravening its bid pricing rules.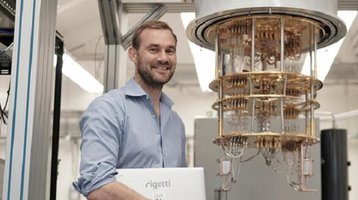 The company has until July 24 to maintain a $1 stock price for 10 consecutive days. If it continues to fall foul of this requirement, Rigetti's stock will be de-listed from the Nasdaq.
"The company intends to actively monitor the closing bid price of its common stock and, as appropriate, will consider available options to regain compliance with the Bid Price Rule, including potentially seeking to effect a reverse stock split," Rigetti said, but noted: "There can be no assurance that the company will be able to regain compliance … and that the company will be able to maintain its listing with Nasdaq."
Rigetti's stock had been below $1 from mid-December up until February 3. The company's stock has been above the $1 threshold for six consecutive days at the time of writing. Rigetti's market cap is around $171 million.
Rigetti went public in March 2022 via a Special Purpose Acquisition Company (SPAC) merger with Supernova Partners Acquisition Company II, Ltd. Its stock reached a high of around $8.81 in May 2022 and has been trending downwards since.
In its most recent results, the company posted third-quarter 2022 revenues of $2.8 million; Net GAAP and Adjusted EBITDA losses for the period were $18.8 million and $14.8 million respectively. The company had cash equivalents of $161 million.
The news comes as the quantum computing firm is facing a change in leadership. In October 2022, the company announced founder Dr. Chad Rigetti will be transitioning from his position as President and CEO to 'focus on advancing the company's products and technology'. However, it was then announced he will be leaving the company.
Initially, Rigetti was set to continue to serve the role until a successor was identified and assumed the position, but Rigetti then told the company he intended to resign in December. Rick Danis, general counsel and corporate secretary, was originally set to be appointed as interim President and CEO if a successor wasn't found by the departure date, but was then appointed to the role of interim CEO.
Subodh Kulkarni has since taken over as CEO in a permanent capacity. He was previously CEO at CyberOptics, an X-Ray test and inspection firm.
Oxford Quantum Circuits raises $1 million
In other quantum news this month, Quantum Exponential Group has invested £300,000 ($363,675) as part of an £869,000 ($1 million) second funding round in Oxford Quantum Circuits (OQC).
Other participants in the fundraise include the Japanese private equity firm HiJoJo Partners.
Proceeds from the Funding will be used for R&D and to accelerate OQC's expansion into Asia Pacific, with a focus on Japan.
Steven Metcalfe, CEO of Quantum Exponential Group, said: "We are committed to providing our shareholders with access to quantum technology companies which are at the forefront of this revolutionary technology. OQC's achievements, driven by its excellent team, are nothing short of astounding. We are absolutely delighted to have participated in the second funding round and look forward to following the company's progress as it expands into Asia."
OQC raised £38 million ($48m) last year as part of a Series A fundraise.