In IonQ, D-Wave, and Rigetti there are now three publicly-listed Quantum computing firms.
As has been the case in previous quarters, all three posted losses for the quarter but remain confident they will reach profitability.
Revenues for IonQ and D-Wave were largely flat, though both noted new customer wins.
Rigetti, meanwhile also posted widening losses amid a search for a new CEO after the company announced founder Chad Rigetti had stepped down.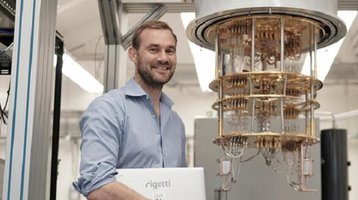 IonQ: Revenue largely flat, losses widen
IonQ recognized revenue of $2.8 million for the third quarter, compared to $233 thousand in the prior year period and $2.6 million in Q2.
Net loss was $24 million and Adjusted EBITDA was a loss of $13.4 million. Net Loss and adjusted EBITDA losses in Q2 were $1.7 million and $11.6 million respectively.
The company achieved bookings of $16.4 million for the third quarter. It signed a $13.4 million contract with the United States Air Force Research Lab (AFRL) to supply cloud access to its quantum computing systems and certain hardware components. A research project with the Department of Energy's Oak Ridge National Laboratory is also underway.
It also announced a partnership with Dell; the company's hybrid quantum platform is based on Dell's classical quantum simulator built on Dell PowerEdge servers, and integrates IonQ's quantum computers and Quantum Algorithm Development Team for its core quantum capabilities.
"During the quarter, we announced a $13.4 million contract with the U.S. Air Force Research Lab, which represents a major step in hitting our bookings goal for the year and in the public-private effort to bring quantum technology into the mainstream," said Peter Chapman, President, and CEO of IonQ. "We also achieved our technical milestone for the year of 25 algorithmic qubits, setting an industry-wide record and representing a 4x improvement in the computational power of IonQ Aria."
Chapman continued: "We announced that IonQ is now a trusted provider of quantum technology to Dell Technologies, one of the world's foremost names in computing hardware. Together with Dell, we will be introducing powerful and groundbreaking new hybrid quantum-classical compute solutions to the market. We are pleased with our third quarter progress and look forward to continuing to deliver on our track record of success."
While bookings are in line with guidance and the company's technology roadmap is on schedule, CFO Thomas Kramer said during the earnings call that the company's costs and expenses were up, particularly in R&D.
"We are investing heavily in R&D and given anticipated demand are building more systems than previously projected this year," he said. Results also include a noncash loss of $1.2 million for the third quarter related to the fair value of warrant liabilities.
IonQ projected an adjusted EBITDA loss for the year of $55 million and expects to remain "well within the plan" for the year. Cash and equivalents are $555.8 million, which it believes is a "sufficient runway" to get to profitability without the need to raise additional funds.
D-Wave: Revenue flat, losses grow
Revenue for the third quarter 2022 was $1.7 million, up from $1.3 million in 2021 and $1.4 million in Q2 2022.
Gross profit for the third quarter of fiscal 2022 was $1.1 million, but the company posted a Net loss of $13.1 million and an Adjusted EBITDA loss of $12.4 million.
Net loss for the second quarter of fiscal 2022 was $13.2 million; adjusted EBITDA for the second quarter of fiscal 2022 was a $10.8 million loss.
"Our third quarter results reflect continued progress in our mission to help customers realize real value by using quantum computing for practical business applications, today. With a 34 percent increase in the number of commercial customers year-to-date and a 30 percent increase in year-over-year quarterly revenue, it's clear that customers are seeing the impact of our quantum-hybrid solutions in unlocking competitive advantage and fueling growth," said Alan Baratz, CEO of D-Wave.
The company said it signed a 'number of new and expanded customer engagements' with Forbes Global 2000 companies, as well as industry leaders such as ArcelorMittal, BASF, and Deloitte.
The majority of the company's revenue comes from its quantum computing as-a-service, representing around 79 percent of D-Wave's total revenue for the quarter. The company in total said it has 63 commercial customers and 105 in total including educational and government customers.
At the end of the third quarter, D-Wave's consolidated cash balance was $13.8 million. It also announced the repayment of a fully secured $20 million venture loan in August.
Rigetti: Losses widen on largely flat revenue, search on for new CEO
Revenue for the third quarter of 2022 was $2.8 million, compared to $2.9 million in the prior year period. Total gross profit for the third quarter of 2022 was $2 million, down $500,000 on last year. Revenue for Q2 2022 was $2.1 million.
GAAP net loss for the third quarter of 2022 was $18.8 million, more than double Q3 2021, while Adjusted EBITDA losses also doubled to $14.8 million.
Net GAAP and Adjusted EBITDA losses for Q2 2022 were $10 million and $15.1 million respectively.
The Company has cash and equivalents of $161 million. Adjusted EBITDA loss guidance was revised from $50- $53 million to $56-$58 million for the year.
The company is facing a change in leadership. On October 31, the company said Dr. Chad Rigetti will be transitioning from his position as President and CEO to 'focus on advancing the company's products and technology'. However, it was then announced he will be leaving the company.
And while the company initially said Rigetti will continue to serve in his current role until a successor is identified and assumes the position, it then said Rigetti told the company of his intention to tender resignation from his positions as the President, CEO, and Board of Directors, with an anticipated effective December 15, 2022.
However, while Rick Danis, General Counsel, and Corporate Secretary, was originally set to be appointed as interim President and CEO if a successor wasn't found by that date, he has since been appointed to the role of interim CEO. Founder Rigetti will be remaining with the company in a non-executive capacity until the previously announced departure date.
During the Q3 earnings call, Alissa Fitzgerald, Rigetti Board Member, Member of the Audit Committee, and Chair of the Nominating and Corporate Governance Committee said: "Chad's departure does not impact our technology roadmap portfolio of 152 patents issued or pending, nor our other proprietary approaches."
"This transition was the board's decision because of a belief that it is time to have a CEO who's experienced running the time-consuming day to day of a public company as well as leading and scaling an advanced technology organization. We had expected that Chad would remain with the company in a technical position. However, he made the personal decision to leave and that was his decision."
Rigetti said that as a result of the discovery of electrical utility fees at its Berkeley facility from February 2019 to December 30, 2021, that were unpaid and unrecognized in prior periods, the Company is accruing approximately $1.6 million of additional estimated expenses in the aggregate in the first and second quarters of 2022 and recorded related additional expenses of approximately $100,000 in the third quarter of 2022. Additional costs due to the search for a new CEO are also expected.
Rigetti also announced a partnership with Blue Force to supply new modular dilution fridges that will be necessary for its anticipated 336-qubit Lyra system and beyond.