Quantum computing firm D-Wave is to become a public company via a Special Purpose Acquisition Company (SPAC) merger.
SPACs are shell companies that list on the stock market with the intention of acquiring companies that wish to go public quicker than the traditional IPO process.
D-Wave announced this week that it has entered into a definitive transaction agreement with DPCM Capital, Inc. in a deal that will value the combined company at $1.6 billion. The deal is expected to close in the second quarter of 2022.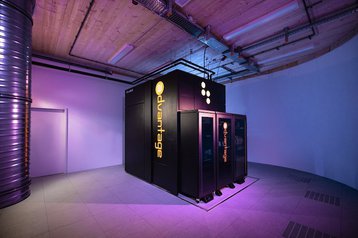 "Today marks an inflection point signaling that quantum computing has moved beyond just theory and government-funded research to deliver commercial quantum solutions for business," said Alan Baratz, CEO of D-Wave. "D-Wave, along with DPCM Capital and our new and long-term investors PSP Investments, Goldman Sachs Asset Management (Goldman Sachs), NEC Corporation, Yorkville Advisors, and Aegis Group Partners, collectively believe that this isn't a moment of hope or science. Instead, we believe this event represents a moment of practical value creation for customers and for investors."
The company said the deal could result in up to $340 million in gross proceeds, including a $40 million PIPE (Private Investment in Public Equity, a kind of top-up investment prior to the merger), with participation from PSP Investments, Goldman Sachs Asset Management, NEC Corporation, Yorkville Advisors, and Aegis Group Partners.
D-Wave will use the proceeds to 'further accelerate its delivery of in-production quantum applications' and to build on its patents.
Founded in 1999, Vancouver-based D-Wave bills itself a 'full-stack' quantum computing company; its system uses Quantum Annealing for its calculations. It has raised more than $250 million from 20 funding rounds according to Crunchbase.
D-Wave quantum machines usually have significantly more quantum bits than rival machines, but they remain entangled for shorter periods than those developed by companies like Google and IBM. It claims its 5,000 qubit Advantage system has the 'greatest performance' of a commercial quantum system, but the industry has yet to coalesce around a suitable metric for comparing systems.
According to the filings, D-Wave is expecting to make $11 million in revenue in 2022 and an Adjusted EBITDA loss of $59 million. It forecasting $219 million revenue and $14 million Adjusted EBITDA profit by 2025. Baratz said 50 percent of the firm's revenue is currently professional services, and 50 percent is recurring platform-as-a-service revenue.
Upon closing of the transaction, shares of D-Wave Quantum Inc., a newly formed parent company of D-Wave and DPCM Capital, are expected to trade on the NYSE under the symbol "QBTS."
"While quantum computing is complex, its value and benefits are quite simple: finding solutions to problems that couldn't be previously solved, or solving problems faster with more optimal results," said Emil Michael, CEO, DPCM Capital, Inc. "D-Wave is at the forefront of developing this market, already delivering the significant benefits of quantum computing to major companies across the globe. As the only quantum computing company in the world that is building both annealing and gate-model quantum computers, D-Wave will have access to the full projected $150 billion quantum computing total addressable market."
Led by Chairman and CEO Michael – formerly of Uber and Klout – DPCM IPO'd in 2020 and raised $300 million to target companies in the technology sector. It was due to merge with mobile gaming company Jam City, Inc. last July, but the two companies canceled the $1.2 bn plan due to the 'market conditions' of the time.
Quantum computing startup IonQ and Rigetti Computing both went public via SPAC mergers last year. IonQ's $2bn merger with dMY Technology Group, Inc. III, made it the first publicly traded quantum computing company.