QTS has signed a new power purchase agreement (PPA) to procure 350MW of solar power to power its facilities in Georgia.
The company announced this week that it has signed a 20-year agreement with Georgia Power subscribing to nearly 350MW of new renewable energy to support its Atlanta-Metro and Suwanee Georgia data center campuses.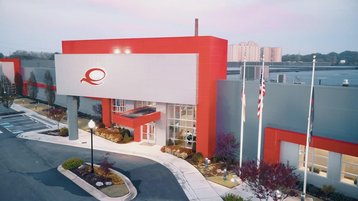 The energy will be generated directly from new solar facilities located in Georgia. Once the agreement with Georgia Power takes effect in 2024, approximately 90 percent of total power delivered to QTS' current data center footprint will be procured from renewable energy sources.
The company said there are additional initiatives underway to reach 100 percent across the entire QTS footprint by 2025. The company's Atlanta campus spans more than 100 acres and at total build-out will provide around 275MW of capacity. The Suwanee facility spans 385,000 sq ft and offers 26MW of capacity.
"Georgia Power has been a trusted energy provider to QTS since we opened our first data center in Atlanta in 2005," said Travis Wright, VP of energy and sustainability at QTS. "As the data center market leader in Atlanta, we have worked closely with Georgia Power to expand the availability of renewable energy sources through innovative programs like CRSP. This new agreement represents an important milestone as part of QTS' documented commitment to procure 100 percent of our power from renewable energy sources by 2025."
The agreement is part of Georgia Power's Customer Renewable Supply Procurement (CRSP) tariff. Through CRSP, energy from up to 1,000 megawatts of renewable resources will be available for subscription by new and existing commercial and industrial customers. QTS will purchase the renewable energy at a fixed rate.
"Georgia Power is pleased to provide QTS, the largest customer participating in the CRSP program to date, access to low cost renewable energy as part of our diverse energy mix," said Wilson Mallard, director of Renewable Development at Georgia Power. "Working with the Georgia PSC to develop and approve offerings, we are focused on growing cost-effective renewable energy options for all customers."
Greg Blank and Rob Harper, Senior Managing Directors at Blackstone, said: "Blackstone is fully committed to helping companies build a stronger, greener economy. This agreement is aligned with our ambition to reduce carbon emissions at all of our investments, and we are proud that our partnership with QTS is supporting the transition to a cleaner energy future."
Last April QTS said its Hillsboro, Oregon; Fort Worth, Texas; and Richmond, Virginia facilities in the US, and its Eemshaven data center in the Netherlands were now renewably-powered by a mix of solar, wind, and hydroelectric energy. QTS already had four other facilities – Irving, Texas; Chicago, Illinois; Piscataway, New Jersey; and Groningen, the Netherlands – already powered by renewable energy. Earlier this year the company joined the DOE's Better Climate Challenge to halve its emissions by 2030.
In other sustainability news, Stack Infrastructure this month said its North American operations are now entirely powered by renewable energy. The company also said it is piloting the use of fossil-free renewable diesel fuel, such as hydrotreated vegetable oil (HVO), and scale battery deployments. For backup. The company has facilities in nine markets across the US and Canada.
"We're delighted to have achieved our initial 100 percent renewable energy commitment and to be making demonstrable progress toward our sustainability and responsible business practice goals," said chief strategy officer, Stack Americas Matthew VanderZanden. "We take climate change seriously and believe the best way to make rapid, wide-ranging progress is to set far-reaching goals."
This month also saw Columbia, Missouri-based colo firm Bluebird Network commit to reaching net-zero carbon emissions by the year 2040. The company currently operates two facilities; a bunker data center Springfield, Missouri, and an overground facility in Bettendorf, Iowa.
"As a communications infrastructure provider and colocation data center operator, we're assuming our responsibility and taking action to reduce our carbon footprint," said Elliott Gillespie, VP of Operations at Bluebird Network. "We have always prioritized energy efficiency, but now we are taking a step further to ensure we're doing our part to protect the environment and help our customers and partners do the same."