The Pittsburgh Supercomputing Center (PSC) is retiring its Bridges supercomputer, and parts will be repurposed into the Bridges 2 successor system.
PSC is a joint computational research center with Carnegie Mellon University and the University of Pittsburgh, providing researchers with access to HPC systems. Funded in 2014 as part of the National Science Foundation (NSF) XSEDE cyberinfrastructure ecosystem, the $10 million, 1.3 petaflops Bridges HPC system has been involved in workloads involving climate change and weather, genetic research, and most recently Covid-19 research - as well as teaching AI to play poker.
In 2018, the NSF extended Bridges' life with an additional $1.9 million for an extra year of operations, followed by an additional expansion of Bridges' AI capabilities with new GPU technology in 2019. Across its lifetime it powered 2,100 projects for 16,000 users at 800 institutions globally.
OPINION: How to provide a cloud-native experience for HPC applications
Bridges 1 will live on through Bridges 2 and Neocortex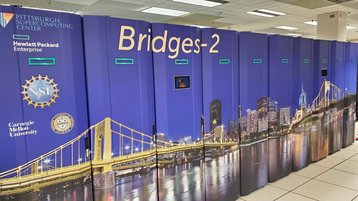 "Bridges was our first and highly successful step in creating a new computational platform for accelerating new and novel forms of computational research," said Shawn Brown, Bridges' principal investigator and director of PSC. "Bridges-2 will take the next step in accelerating rapidly evolving data and AI research with greater capabilities and the same excellent team supporting the research."
Successor system Bridges 2, which has 64,512 cores compared to the original Bridges' 21,056, will continue its predecessor's work, including around Bridges-AI, which features the world's first Nvidia DGX-2 system for open research. The system is already complete and begun regular operations.
Some components of Bridges 1 will be repurposed for use in Bridges 2, while others will be used for research and philanthropic purposes by other organizations. Later this year, Bridges 2 will be federated with PSC's new Neocortex HPC system focused on AI.
"Big machines are like old friends, it's always sad to see when they go," said Olexandr Isayev, assistant professor of chemistry at the Mellon College of Science. "We used PSC Bridges very productively for a number of years. It was a fun experience, and we are looking forward to Bridges 2 for even more fun but most importantly, to solve even more challenging problems in chemical sciences!"