Environmental officials at Prince William County have asked the board of supervisors to reject a proposal for 2,000 acres of data centers in a rural area of the Northern Virginia County.
The PW Digital Gateway plan would replan 2,133 acres of the county's "rural crescent" for data centers, but the county's watershed management division has said the plan would harm nearby forests, streams, and wildlife, in an agency review submitted on December 10, according to the Prince William Times.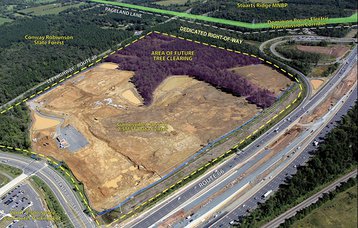 Clearing and flattening
"Major impacts would include loss of extensive tracts of forest land, dramatic increases in impervious area, impact to numerous intermittent and perennial streams, steep slopes with highly erodible soils, wildlife habitat (including habitat for rare, threatened, and endangered species), and potential impacts to wetlands," said Benjamin Eib, assistant chief of the county's watershed management branch. "...The development of existing data centers has demonstrated that extensive mass grading and the nearly wholesale clearing and flattening of large parcels is the norm."
The board can still approve the plan but, if it does, Eib's division wants major work such as increasing tree buffers around protected forests and historic sites by 200 feet, to lessen the visual and environmental impact of the development, and site design strategies" to lessen visual and environmentally detrimental effects. The division also wants better protection around wetlands, streams, and wildlife corridors. 
The plan has also had criticism from County Archaeologist Justin Patton who wants 100 acres next to the historic Manassas battlefield removed from the scheme.
The plan is backed by local homeowners along Pageland Lane next to the Battlefield Park, who want their land switched from agricultural use to allow data centers.
The board is planning more public consultation in 2022, and has not set dates for this to happen.
Prince William County could be the next hotspot for data centers in Northern Virginia as nearby Loudoun's "data center alley" is filling up. However, the plan wants to build facilities within a 117,000-acre zone which was designated as a rural crescent in 1998, with very restricted development allowed.
Democrat Delegate Dan Helmer, whose district encompasses western Prince William and southern Fairfax, wrote a letter to the board of county supervisors in December requesting they proceed "extremely cautiously," with the proposal. In the letter he cited concerns about its impact to the environment, Manassas National Battlefield Park, and the rural character of the area. 
"The Prince William Digital Gateway stands to be a major economic development opportunity but also would irrevocably transform the character of Northwest Prince William County and may threaten our environment," said Helmer. "... I also hope the board will reflect deeply on the impact to Manassas National Park, a national treasure." 
Democratic county supervisors have supported the plan.
A plan to build a 130-acre data center campus at Gainesville Crossing on 1-66 has been approved, with space expected to be available from the middle of 2022. This development is being developed by real estate firm Patrinely Group, along with USAA Real Estate. Patrinely is due to launch a data center brand called Corscale soon.
Gainesville Crossing is a different development from another 100-acre campus on I-66 which got rezoning approval earlier in December