Real estate firm Plouton Group is pitching for investment in a data center in the Mojave desert, California, which will be powered by an on-site solar farm when the sun shines.
The Delaware based company is offering $7m of Series A Preferred Stock for its subsidiary Plouton Datacenters, with which it plans to build and operate a data center and a solar farm on a 50-acre plot in Mojave, Kern County, California.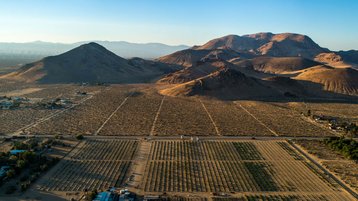 Power-hungry data centers
The site will have plentiful solar energy, says the company which will power the data center during daylight hours. At other times it wll draw from the local utility grid, giving it an average electricity base price per kilowatt-hour that is 40 percent to 70 percent less than its competition. The planned facility will be marketed to Fortune 1000 companies in the Los Angeles metropolitan area.
"It has never been more profitable to produce electricity from the sun," said .Ramak J. Sedigh, co-founder and CEO of Plouton Datacenter. "Our offering hits the ESG trifecta of investment opportunity with a combination of renewable energy, real estate development ownership, and monthly dividend payouts.
"Given our team's combined sixty-three years of experience in real estate and technology markets, Plouton is well-equipped to deliver on our promise to investors."
The data center is expected to house around 40 to 50 MW in IT capacity,and will be the sole customer for the on-site 40 to 50 MW solar farm.