African telco Paratus has launched a new data center in Namibia.
The company this month opened its newest data center, dubbed Armada, just outside Namibia's capital city, Windhoek. It is the company's first facility in the country.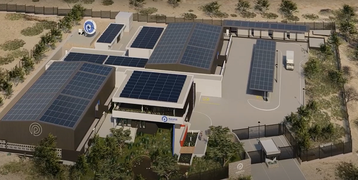 "The launch of Armada signals the country's readiness to participate in the Fourth Industrial Revolution (4IR), offering Namibian businesses the whole gamut of digitally resilient infrastructure and hosting services, complemented by complete connectivity freedom and the opportunity to compete at world-class levels," the company said in an announcement.
Specifications of the purpose-built facility weren't shared, but the company said it was the largest in the country and built to Tier III standards. On its website, Paratus said the campus is backed up by generators to deliver up to 2MVA and has on-site solar panels.
Paratus Group has two data centers in Angola and last year it completed its Zambian facility. It announce plans to develop another data center in Namibia in 2021. Paratus Namibia also hosts its own Earth station.
Schalk Erasmus, Paratus Group CEO, said: "The Paratus Armada DC is the safest and most secure environment for any business' most precious asset – its data. The resilience we offer at Armada is unmatched in Namibia. This is the archetype of modern technology at work, and Armada is another example of how the Paratus mission to transform Africa through excellent infrastructure is being realized. As a state-of-the-art facility and one in which we have invested around N$123 million (US$7.5m), Armada is a one-of-a-kind, one-stop shop for businesses of all sizes to compete at world-class levels. This is a proud day for Paratus Group."
The site is also the cable landing station in Namibia for Google's upcoming Equiano cable. It is only the second submarine cable to land in the country.
Google announced its Equiano privately-funded submarine cable between Africa and Europe in 2019. The cable will link Portugal to South Africa, with branches planned in Nigeria, St. Helena, DR Congo, Togo, and Namibia. Other countries could join the cable in future.
WIOCC is building the Equiano landing station for Nigeria in Lagos, and Liquid Telecom is building a landing station for the cable in DR Congo. In South Africa, the cable is landing at Telkom's Melkbosstrand Cable Landing Station north of Cape Town.
WIOCC, which owns one of the fiber pairs for the cable, is building a new Open Access Data Centres facility in Rondebosch, Cape Town.