OVHcloud continues the effort to restart cloud services and recover data after the disastrous fire in its SBG2 data center in Strasbourg - facing issues detailed in tweets from OVH founder Octave Klaba.
Cloud services including private cloud and virtual private servers are returning, according to Klaba's tweets, but practical issues remain, as the European cloud provider works to restore services in SBG3, the largest remaining data center on the Rhine-side site in Strasbourg. Alongside the effort of cleaning servers, moving kit into the new fifth floor of the data center is hampered by the fact that the lift does not work.
Meanwhile, OVHcloud has been granted ISO certification for the security and privacy of its cloud services.
Updates
OVHcloud details compensation for fire-hit customers
For breaking data center news, features, and opinions, subscribe to DCD's newsletter
OVH faces hard climb to restart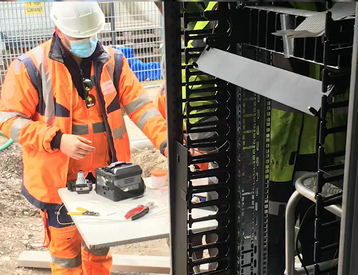 "We are facing a lot of blockers and the unpredictable issues that should have been fixed but are not yet," said a recent tweet from OVHcloud founder Octave Klaba. "Example: the elevator in BG3 is not fixed yet. Consequence: we have to use the stairway for all servers coming from Croix 1by1."
Customers with a paid backup for virtual private servers (VPS) can expect some news tomorrow, according to the latest tweet. "On our side, we are working on restarting the SBG2's VPS from the paid backup. We are working on the code and then we will start. Probably from tomorrow."
The level of restoration customers can expect is a key factor, as well as the speed with which it will return - many customers have been caught by surprise, either finding that they didn't have backup provision, that the terms are not what they thought they were - or, as Klaba put it shortly after the March 10 fire: "Some customers don't understand exactly what they bought."
Over the weekend, backups included the news that SBG3 servers should all be cleaned by Tuesday, and the personal cloud storage (pCS) services are taking more time to restore because of the effort of reracking the services: "The new ETA for RO is Mon-Tue."
Across the site, the announcements sum up as: most servers should be cleaned by today, and installed by tomorrow. The VMware-based private cloud will take time, as "we need all the services UP (host, storage) to restart the vSphere."
OVHcloud has promised that in future, all customers will have free backup, and it will set up a lab to investigate and understand the role of fire suppression systems in managing data center incidents.
Based on early remarks from Klaba, the root cause is still believed to be a UPS system for SBG2, possibly involving batteries.
ISO certified
OVHcloud has announced it has ISO/IEC 27001 and ISO/IEC 27701 certificates for the majority of its cloud products, after a third party auditor approved its Information Security Management System (ISMS) and Personal Information Management Systems (PIMS).
The ISO/IEC 27001 certificate covers data security, with additional modules ISO/IEC 27017 for cloud services and ISO/IEC 27018 for personal data protection. The ISO/IEC 27701 certificate clarifies that OVHcloud protects customer data that it hosts, according to the European General Data Protection Regulation (GDPR) .
The certificates cover OVHcloud's public cloud (compute, storage (block, object, archive, snapshot, instance backup), managed Kubernetes service, cloud databases, data processing, ML serving and AI training. They also cover hosted private cloud Premier, managed bare metal, bare metal servers, NAS, backup storage, log data and Trusted Exchange.