Oracle appears to have won in its bid for TikTok's US operations - but with a twist.
Instead of owning the company outright, it will become a 'trusted technology partner' offering cloud services and other technology. It may own a stake in the company, but not the whole thing.
Oracle confirmed the news, but did not provide any specific details. It was also confirmed by US government officials who said that it would still have to go through federal approval channels.
TikTok and parent ByteDance have yet to comment, while Chinese state media downplayed the sale, suggesting it was not happening - with the country still pushing back against the idea of a forced sale.
Microsoft, once the frontrunner for the acquisition, has officially dropped out.
Tentative sale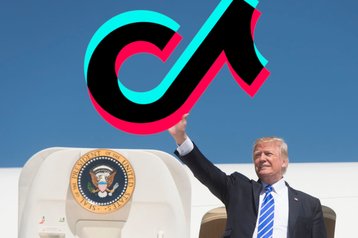 The new US version of TikTok that Oracle would be involved with would have a commitment to employ around 20,000 staff in the country, Treasury Secretary Steven Mnuchin told CNBC.
"We will be reviewing [Oracle's bid] at the CFIUS committee this week and then will be making a recommendation to the president and reviewing it with him," Mnuchin said. Oracle founder and chairman Larry Ellison is a major Trump backer and donor.
Mnuchin continued: "From our standpoint, we'll need to make sure that the code is, one, secure, Americans' data is secure, that the phones are secure and we'll be looking to have discussions with Oracle over the next few days with our technical teams."
It is not clear who will own TikTok's algorithms, an asset that current parent ByteDance has said it did not want to part with. The company currently uses a mixture of data center providers (including Digital Realty) and Google Cloud to host its social media platform. Google, which won the $800m contract over three years, is not thought to have bid for TikTok.
Last month, President Trump signed two executive orders targeting ByteDance, the first banning US companies from doing business with the platform from September 20, and the second demanding the company sell or spin off its US TikTok business within 90 days.
"There is credible evidence that leads me to believe that ByteDance... might take action that threatens to impair the national security of the United States," Trump claimed at the time. The Chinese company denies the allegation, and says that the forced sale is politically motivated.
The President has repeatedly claimed that the US Treasury should receive a cut of the sale, a move without precedent. It is not clear if Oracle's deal will include a kickback.
"A deal where Oracle takes over hosting without source code and significant operational changes would not address any of the legitimate concerns about TikTok, and the White House accepting such a deal would demonstrate that this exercise was pure grift," former Facebook security head Alex Stamos said on Twitter.
In its statement announcing that it would not acquire TikTok US, Microsoft said that it "was confident our proposal would have been good for TikTok's users, while protecting national security interests.
"To do this, we would have made significant changes to ensure the service met the highest standards for security, privacy, online safety, and combatting disinformation, and we made these principles clear in our August statement. We look forward to seeing how the service evolves in these important areas."
Oracle's cloud division has historically lagged behind rivals Amazon, Microsoft, Google, and even IBM. It has lacked a highprofile customer - this year touting Zoom as its client, only to have the company reveal it primarily uses AWS.