Oracle plans to hire 2,000 people for its cloud platform, months after sacking hundreds of staff.
Don Johnson, executive vice president of Oracle Cloud Infrastructure said: "Cloud is still in its early days with less than 20 percent penetration today, and enterprises are just beginning to use cloud for mission-critical workloads.
"Our aggressive hiring and growth plans are mapped to meet the needs of our customers, providing them reliability, high performance, and robust security as they continue to move to the cloud."
The staff openings will include roles in software development, cloud operations and business operations. Last month, the company said it planned to launch 20 new cloud regions around the globe by the end of 2020.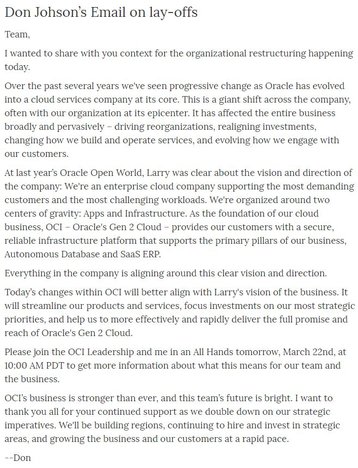 Lay-offs
Back in March, hundreds of Oracle staff were sacked after a series of cutbacks across its divisions when the company decided to focus on its cloud platform.
On March 22, Johnson sent an email to all employees with the subject line "Organizational Restructuring." The email detailed how the company was to now revolve around the Oracle Cloud Infrastructure.
Johnson wrote: "It will streamline our products and services, focus investments on our most strategic priorities, and help us to more effectively and rapidly deliver the full promise and reach of Oracle's Gen 2 Cloud."
The email asked staff to gather the next morning "to get more information about what this means for our team and the business." There, many were let go.
Employees who lost their jobs were told that it was to be their last day at Oracle and had just half an hour to leave the building, IEEE Spectrum reported - with entire teams fired en masse.
Business Insider reported that thousands were laid off across all departments in several rounds, with some members of the cloud development division also axed.
The exact figure of how many employees lost their jobs in the past months has not been released.
Gen 2
Now the tech company wants to press ahead with its Gen 2 cloud technology which it claims has made several improvements in security, machine learning and price. Oracle currently operates 16 cloud regions globally after opening 12 cloud regions last year. Once the company adds the 20 additional regions, bringing the total global footprint to 36 regions across 11 countries or jurisdictions.
In addition to rapid hiring and regional expansion, Oracle will make additional real estate investments to support its cloud infrastructure.