Enterprise tech giant Oracle has reportedly entered into discussions with TikTok to acquire the social media company's US, Canadian, Australian, and New Zealand operations.
The deal would be made in partnership with a group of venture capital firms that already have a stake in TikTok.
The move comes after President Donald Trump promised to ban the app unless it is sold. Microsoft is thought to be the furthest along in negotiations to acquire TikTok, confirming its intentions back in July.
2020 is a weird year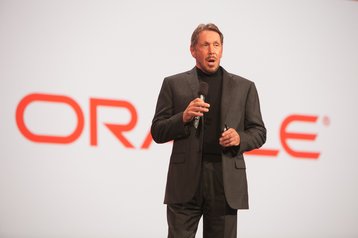 The Financial Times reports that Oracle has turned to VC funds, including General Atlantic and Sequoia Capital, to join its acquisition plan.
CNBC's own sources confirmed the report, adding that its talks with TikTok had accelerated in recent days, making it and Microsoft the clear leaders in ongoing discussions. Twitter is believed to have held early talks with TikTok, but the smaller company would likely struggle to finance such an acquisition.
TikTok parent company ByteDance does not want to sell half of its company, but the US government is trying to force a sale. This month, President Trump signed two executive orders targeting the company, the first banning US companies from doing business with the platform from September 20, and the second demanding the company sell or spin off its US TikTok business within 90 days.
ByteDance is also ordered to destroy any data it has on US citizens, and open itself up to auditing by the Committee on Foreign Investment in the United States if need be.
"There is credible evidence that leads me to believe that ByteDance... might take action that threatens to impair the national security of the United States," Trump claimed in his order.
Such evidence was not disclosed, but last week the Wall Street Journal reported that TikTok used to track user MAC addresses, against Google's Android policies.
It stopped abusing a security loophole in November, and the WSJ could not find any proof TikTok was collecting an unusual amount of information for a mobile app.
The company denies claims it is a security risk, and says that it keeps all US data on US servers, with a backup in Singapore. Earlier this month, it claimed that it had tried to engage with the US government for nearly a year in good faith to address national security concerns.
"What we encountered instead was that the Administration paid no attention to facts, dictated terms of an agreement without going through standard legal processes, and tried to insert itself into negotiations between private businesses."
Complicating matters further, earlier this month President Trump declared that, should TikTok be sold, the US Treasury should receive "a very large percentage" cut - a stark departure from convention, and possibly legal precendent.
Here, Oracle may have an advantage. Company co-founder and executive chairman Larry Ellison is one of the tech industry's few outspoken Trump supporters, with the billionaire holding a fundraiser for the President at his estate this February.
CEO Safra Catz is also a Trump backer, joining the Presidential transition team after he was elected. She is known to have dined with the President multiple times.
What is less clear is whether Oracle has any tech advantage. The company is squarely focused on enterprise sales, and best known for its database, enterprise resource planning, Human Capital Management, customer relationship management, and supply chain management software.
Acquiring TikTok, which is aimed at younger consumer audiences, would be a drastic change for the company.
But the business has been searching for a hit, after a slow transition to cloud services has left it struggling to compete with Amazon, Microsoft, and Google. In Oracle's latest fiscal quarter, revenue declined six percent to $10.4 billion, with the company not seeing the same pandemic cloud bump as its competitors.