Hong Kong-based data center firm OneAsia is to expand out of Greater China and is to build a data center in Busan, South Korea.
The company announced last week plans for a data center in the Mieum Industrial Park in Busan-Jinhae Free Economic Zone.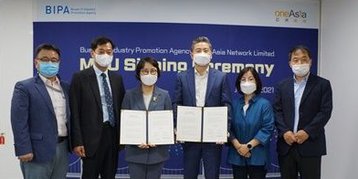 The data center campus covers approximately 88,000 square meters (947,200 sq ft) with a total capacity of 80MW. It is expected to start operation in Q1 2024. A previous announcement from the Busan-Jinhae Free Economic Zone said the company was investing $630 million in the project.
"We believe the OneAsia DC Campus will be a regional critical IT hub in the North Asia region and a springboard for multi-national Internet-based companies to enter the Korean market," the company said in a LinkedIn post announcing the project.
Established in 2009, OneAsia owns a number of data centers in China and Hong Kong and provides a number of hosting and cloud services. Dutch pension fund APG bought a 20 percent stake in April, with the rest owned by Legan Group.
According to The Hong Kong Trade Development Council (HKTDC), OneAsia has acquired 100 percent ownership in a parcel of land in Thailand for a new data center. The data center to be completed in the third quarter of next year will have an area of 23,200 sqm (250,000 sq ft). The company is reportedly also looking to develop in Japan but has yet to announce any developments there.
In September the company announced a new data center project in Guangzhou HuangPu District, China. The development will cover a gross floor area of 76,000 sqm (818,000 sq ft) and will be capable of housing 10,000 racks. It is expected to start operation in Q1 2024.
More in Construction & Site Selection