GPU giant Nvidia has detailed its upcoming Grace 'superchip,' featuring two Arm-based processors and a DDR5 memory subsystem in one package.
The Grace Superchip includes two Grace CPU processors, while the Grace Hopper Superchip includes one Grace CPU and one GPU based on the new Hopper architecture.
Grace is based on the Neoverse Armv9 architecture, and consumes 500 watts of power across the two processors.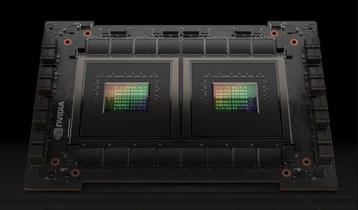 The two processors are connected using the NVLink-C2C, a new proprietary chip-to-chip interconnect. Its memory subsystem provides up to 1Tbps of bandwidth.
"The Grace CPU Superchip will excel at the most demanding HPC, AI, data analytics, scientific computing and hyperscale computing applications with its highest performance, memory bandwidth, energy efficiency, and configurability," Nvidia said.
The company claims that the Grace CPU Superchip offers 1.5x more performance in a SPEC benchmark than two of last-gen 64-core AMD Epyc processors (the ones Nvidia uses in its own DGX A100 servers).
Nvidia said that the Grace CPU Superchip will be the fastest processor on the market when it ships in early 2023 for a range of applications.
The Arm processor, first announced last year, comes despite Nvidia's $40bn acquisition of Arm failing.