NTT Communications Corporation (NTT Com), the IT solutions and communications business within NTT, has opened its Thailand Bangkok 2 Data Center. The four-story dedicated facility, which cost nearly $32million, is located in the Amata Nakorn Industrial Estate in the suburbs of Bangkok.
The data center, which boasts some 40,000 sq ft (38,000 m) of server rooms - equivalent to 1,400 racks -  puts it in the top tier of data enters in Thailand.
The facility is located in an area with a low risk of flooding. However, the data center is surrounded by floodwalls and dikes which stand 4.7 meters above sea level and completely surround the facility and entire perimeter to assure safe operation during 'unforeseen' natural disasters.
NTT has situated the new data center 70km from Bangkok, far from any likely political disturbance.
A data center designed for financial institutions
A redundant dual-path, claims NTT, guarantees 99.9999% power availability. The cooling facilities are built in a N+1 redundant configuration. Robust security can be tailored for companies that require extra-rigorous solutions.
A carrier-neutral policy enables the use of redundant networks. NTT Com's new data center is designed for mission-critical financial institutions and the core systems of enterprises, as well as for critical backup.
The data center offers customers use of large offices equipped with backup power from emergency generators. The offices, which are fully integrated with the data center, have also been designed with business continuity planning in mind.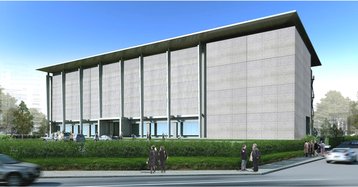 Next generation data center services
This is the first data center to have been certified by the Board of Investment of Thailand (BOI).
NTT Com's new facility will use NTT Com's global network node to provide what it calls next-generation data center services.
Thailand, which is located in the middle of the Greater Mekong Subregion (GMS), continues to campaign hard to attract global enterprises.
Locally based financial institutions and other multinational companies are increasingly demanding outsourced data centers to increase the value of their IT environments.
The Thai authorities consider the areas where the data centers are located to be very safe. Bangkok's suburbs, they say, offer enhanced business continuity assurances in view of the occasional floods and political disruptions which have been experienced in certain other Thai urban centers in recent years.
NTT Com's new data center also uses the local knowledge of Digital Port Asia Ltd., a Thai firm in which NTT Com acquired a stake in 2013. NTT is expected to continue building data centers and data center services in the same area.
Overview of Thailand Bangkok 2 Data Center

Location

 

50 minutes by car from Suvarnabhumi International Airport in Bangkok

60 minutes by car from downtown Bangkok (approx. 70km)

Amata Nakorn Industrial Estate is free of floods and political demonstrations

Building

 

Structure

 

Reinforced concrete, four stories

 

Maximum Load

 

1,240 kg/m2

Power

 

Power Receiving

 

Dual path

Total power: 9.5 MW

Total power for IT equipment: 4.5 MW

 

Generator

 

2N redundant configuration

Power for more than 50 hours without refueling

 

UPS

 

2N redundant configuration

Battery power for more than 15 minutes

 

SLA

 

99.9999% availability

Air-conditioning

 

Water cooled

N+1 redundant configuration

Fire Protection

 

Nitrogen gas fire extinguishing systems

High Sensitivity Smoke Detector (HSSD)

Security

 

Online application for facility access

Requires identity card at security gate and biometric authentication

Security gate, surveillance cameras and individually locked racks

24/7 security guards

Customizable for financial institutions, etc. requiring greater security

Other Facilities

 

Rental offices (530m2 in total), meeting rooms, and parking lot

Connectivity

 

Carrier neutral

Operation (24/7)

 

Service desk in English and Thai

Remote service and onsite staff

Certifications

 

ISO27001

First high-quality data center certified by BOI (BOI No. 10/2552)

Tier level*

 

Tier III

*NTT Com assessment based on Uptime Institute's Tier Classification Define Site Infrastructure Performance
 Table provided by NTT