A newly-formed company is aiming to build a data center on New Zealand's South Island.
T4 Group aims to invest NZ$50 million ($34.6m) in building a Tier IV-quality modular data center. Details about the location, timeline, or specifications weren't shared.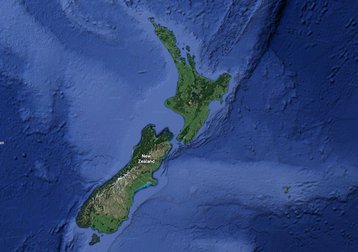 The facility will use energy from Southland's two hydro stations, Lake Manapouri and Lake Monowai, and utilize natural air cooling.
"T4 Group is not greenwashing its operation; currently, data centers in New Zealand rely heavily on coal as a secondary power source which companies offset by purchasing carbon credits. We can harness the unique benefits from the regions, such as access to hydro energy, to develop a truly green and sustainable community asset," said T4 director David Simpson.
The company said it would be New Zealand's first carbon-neutral data center and would aim to re-use its excess heat.
"We are looking to try and recycle off our outputs, such as heat, where we can. That's part of why the particular location that we've picked is specific, so the partner there has the ability to use the heat," said Simpson.
T4 Group (not to be confused with T5 Data Centers) was established in 2021 with the aim of providing regional New Zealand with access to colocation data centers. Simpson's previous experience centers around carbon asset management and other sustainability initiatives.
The company recently acquired Advanced Data Centres (ADC) an IT services firm in New Zealand that operates a facility on the North island in Whangarei. The company will remain unchanged and General Manager, Dion McCracken, will maintain his current role in ADC.
Simpson told CRN that the acquisition was the result of an opportunity that was too good to pass up and will bolster T4's presence with "a small data center and highly skilled resources with which we can take off."
T4 reportedly also has an Auckland-based colocation data center.
Most data centers – and all currently hyperscale facilities – in New Zealand are located on the North Island. However, Hawaiki Cable's Remi Galasso is also planning a large data center on New Zealand's South Island. His DataGrid company has bought a 43-hectare site in North Makarewa near Invercargill and is currently calling for expressions of interest from construction firms.
The facility will draw energy from the Manapouri hydropower scheme, which is due to have a large surplus once the Rio Tinto aluminum smelting facility at Tiwai Point closes in 2024.
A small cryptomining facility is also being built on the South Island next to Clyde Dam.