NEC Corporation has announced that it will construct, supply, and install an optical fiber submarine cable system for the East Micronesia Cable System (EMCS).
The cable is approximately 2,250km in length and will connect four islands between the Federated States of Micronesia (Pohnpei and Kosrae), Kiribati (Tarawa), and Nauru.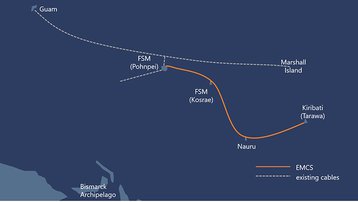 It will be the first subsea cable to connect the islands of Tarawa (Kiribati), Nauru, and the state of Kosrae (FSM).
Announcing its role in the project, NEC said that it has signed a contract with FSM Telecommunications Cable Corporation (FSMTCC), BwebwerikiNet Limited (BNL) of the Republic of Kiribati, and Nauru Fibre Cable Corporation (NFCC) of the Republic of Nauru.
It's a project that is backed by the governments of Australia, Japan, and the United States, with the trio of countries providing grant funding for the cable.
"With the recent progress of digitalization, internet connectivity and access to digital technologies increasingly affect the economic and social development of every region," said Atsushi Kuwahara, managing director of the submarine network division, NEC Corporation.
"It is a great honor that the NEC Group can use its many years of experience in optical submarine cable technology to contribute to the access to information and communications for residents, businesses, and governments of Pacific Island countries."
NEC is a major producer of subsea cables and has built more than 400,000km of cable for subsea projects.
In 2016, NEC signed a contract with PT Telekomunikasi Indonesia (Telkom) to develop the Indonesia Global Gateway Cable System (IGG), an optical submarine cable system to link up multiple cities across the Indonesian archipelago.
The company worked with Belau Submarine Cable Corporation a year later to link the Republic of Palau with the existing SEA-US cable system.
NEC is developing Google's new TPU cable and Meta's Anjana system.