NEC Corporation (NEC) has announced that it has signed a contract with PT Telekomunikasi Indonesia (Telkom) to develop the Indonesia Global Gateway Cable System (IGG), an optical submarine cable system to link up multiple cities across the Indonesian archipelago.
Projected to be completed in early 2018, the IGG will connect the islands of Sumatra, Batam, Jawa, Bali, Kalimantan and Sulawesi with the data center hub of Singapore.
Across the sea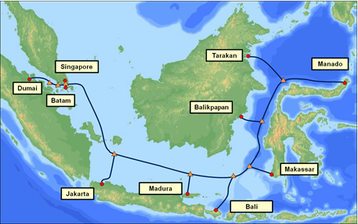 The IGG will operate at 100 Gbps over 80 wavelengths through four fiber pairs, and will span a distance of 5,300 kilometers. Notably, it will land at nine other locations aside from Singapore to connect the cities of Dumai, Batam, Jakarta, Madura, Bali, Makassar, Bilikpapan, Takaran and Manado.
Aside from enhancing connectivity among the major cities of Indonesia, IGG is also designed with the purpose of providing direct connectivity between two international submarine cables at Dumai and Manado. The names of the cables are not mentioned, but they are understood to be coming from Europe and the west coast of the United States respectively.
Looking at newly completed or soon-to-be completed international cables at Dumai and Manado, we can assume that South East Asia- Middle East- Western Europe 5 (SEA-ME-WE 5) is the former. The latter is probably the South East Asia-United State (SEA-US), which links Manado to Los Angeles.
"NEC is honored to be selected once again by Telkom as the supplier of an optical fiber submarine cable system, the advanced 100Gb/s IGG system, providing connectivity among nine Indonesian cities and Singapore, and linking two international submarine cables at Dumai and Manado," said Toru Kawauchi, the general manager of the submarine network division at NEC.
"Since first building an optical fiber submarine cable system for Telkom in 1991, NEC has continuously helped to expand Indonesia's domestic connectivity… NEC is proud to have the chance to add yet another page to its service history with the IGG," he said.