The National Supercomputing Centre Singapore will use AMD Epyc 7003 processors for a new supercomputer.
The HPE Cray EX system will use a combination of the Epyc 7763 and 75F3 processors. Earlier this year, the NSCC confirmed that the system will also use 52 Nvidia A100 GPUs.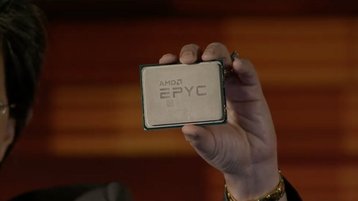 Set to be fully operational in 2022, the supercomputer is expected to have a peak theoretical performance of 10 petaflops.
"AMD Epyc processors are the leading choice for the HPC research that makes an impact on the world, and that's why they have been chosen to power Singapore's most powerful supercomputer," said Ram Peddibhotla, corporate VP of Epyc product management.
"We're excited to work with HPE and the National Supercomputing Centre Singapore to help unlock scientific discoveries across medicine, diseases, climate, engineering and more."
The system will be used to study tropical climate variability and change, and weather systems affecting Singapore and the wider Southeast Asia Region, as well as environmental modeling for urban sustainability, materials design for low-carbon and circular economy, healthcare, and quantum computing research.