Zimbabwean President Emmerson Mnangagwa officially commissioned the National Data Center (NDC) in the capital Harare.
The National Data Centre has been in development since 2018, and was reportedly '95 percent' complete in early 2019. The facility will be used to centralize and digitize government services.
China helps with Zim DC, fuels fear of surveillance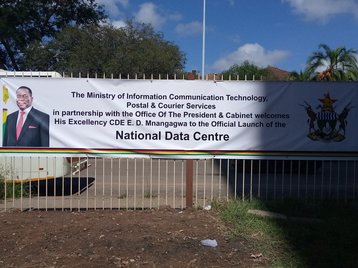 "This is indeed another great leap forward in the modernization of our public sector and economy in general," said Mnangagwa. "The national data center of strategic national importance and its reach and impact will go a long way towards the attainment of an upper-middle-income economy by 2030."
The data center was completed with assistance from the Chinese government, as well as Chinese firms Inspur Group and Sino-Zimbabwe. President Mnangagwa thanked the Chinese government for its 'invaluable strategic support and technical expertise around e-governance.'
"The establishment of the national data center could not have been achieved without the well-meaning support of our comprehensive strategic partner -- the People's Republic of China," said Vice President Chiwenga. "Indeed the government of the People's Republic of China assisted us in the process of appreciating the historic development of ICTs and their customization for use by government."
Local press in Zimbabwe have expressed concerns that the new facility will be used for surveillance purposes. Former Minister of Higher & Tertiary Education, Science & Technology Development, Professor Jonathan Moyo, last year called the NDC a 'Cybersecurity Centre built by the Chinese to illegally snoop' on communications in the country.
"The center has been on a trial run. It's ready to go full throttle!" he said.