As part of the first phase of a development deal between Zimbabwean state-owned telecoms operator TelOne and Huawei, two new colocation and cloud facilities are now open for business. The first is located in the capital, Harare, and the second in an adjacent town called Mazoe.
The facilities reportedly meet Tier III standards and offer 99.98 percent uptime.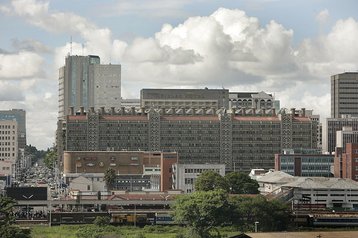 Huawei takes Zimbabwe
At the official launch event, TelOne managing director Chipo Mtasa told local business leaders he hoped that they would "seriously consider" using the company's new data centers instead of building their own, reports Techzim.
"As a specialized entity, not only are we guaranteeing the expertise but we will as also help you cut your connectivity costs by up to 35 percent."
Infrastructure installed across both facilities is said to have cost TelOne $1.6 million, but the company hopes it will earn up to $2 million a month.
The launch is part of a $98 million network modernization project, the National Broadband (NBB) initiative, funded by a loan from China Export-Import Bank (ExIm). It will see TelOne shift its business model from landline provider to mobile, broadband and cloud services provider.
To date, TelOne has used $33m of the $98m loan from ExIm. As well as new cloud and colocation services, the company has introduced a pre-paid billing platform and has improved the country's fiber networks: the Mutare-Harare-Bulawayo-Plumtree link now supports 100Gbps (improved from 10Gbps), Bulawayo-Victoria Falls delivers speeds of up to 1.2Gbps (from 622Mbps) and new cables now run between Bulawayo and Beitbridge.
Zimbabwe's ICT Minister Supa Mandiwanzira said "Zimbabwe has signed and agreed to see to it that the country has no less than 80 percent of the population connected to broadband by the year 2020."
Huawei has been operating in Zimbabwe since 2002. Last year, Albert Yang, managing director of Huawei Zimbabwe told the Financial Gazette: "Huawei is dedicated to be a contributor of providing ICT access to people in Zimbabwe and to the whole continent of Africa, to bridge the digital divide by increasing network coverage and offering affordable devices."