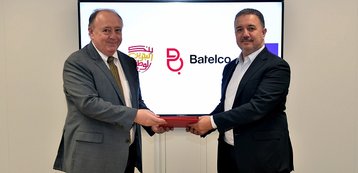 Iain Blacklaw, group chief operating officer at NBB, said the company had moved Disaster Recovery operations to Batelco's RJR Data Center in Askar last year
"The current shift is a strategic move towards a complete digital transformation at NBB Group, and given the recent upgrades to the bank's services, we aim to adopt an independent techno-centric model of operation to further enhance our performance and expand our service offerings," he said.
"Batelco's new data center is fully equipped with all the necessary means to handle our IT infrastructure operations, allowing us to further focus on outsourcing our day-to-day responsibilities and operations while trusting that our infrastructure is being safely and securely managed and maintained by one of the most respected national entities in the Kingdom."
Batelco opened the Tier III-certified Hamala facility in February 2021. The 12,236 square meter (131,700 sq ft) data center has a total capacity of 2.7MW, and is the telco's third in the country. The company claims it is the largest in Bahrain.
"We are very pleased to sign this agreement with the National Bank of Bahrain Group and look forward to being part of NBB's Group digital transformation plans," said Batelco GM of enterprise Abderrahmane Mounir. "We believe that the facilities and solutions we can offer are well suited and designed for the banking and finance sector and other verticals."
"The foundation of Batelco's data center is based on making the digital business of our customers successful, by offering reliable, secure, and energy-efficient solutions, combined with best-in-class customer support," he added.
Tencent recently announced plans for its first MENA data center in Bahrain, while AWS has opened a cloud region in the state.