Internet connectivity in Myanmar dropped precipitously amid a military coup.
As soldiers detained civilian leaders, they cut off state TV and radios, local phone lines, cellular connectivity, and Internet access across the country. Services are now slowly returning.
Myanmar's military seizes power claiming election fraud without proof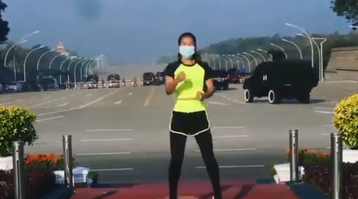 According to NetBlocks, a non-governmental organization that monitors connectivity, Internet disruptions began around 3am Monday morning local time, with national connectivity first falling 25 percent and then going down to 50 percent by 8am.
"Preliminary findings [indicate] a centrally ordered mechanism of disruption targeting cellular and some fixed-line services, progressing over time as operators comply," Netblocks said.
Among the telcos cooperating was the state-owned Myanma Posts and Telecommunications (MPT) and Telenor. By midday, Internet connectivity was back up to 75 percent. Some cellular connectivity was also partially restored. Early data suggests that outlying regions of the country were less affected, with the focus on cities.
The coup comes after military chief General Min Aung Hlaing said that the country's constitution could be revoked, claiming election fraud. He has now said he will govern for one year.
In November, the ruling National League for Democracy (NLD) won 83 percent of available seats in the election.
The party is led by Suu Kyi, a former political prisoner who won the 2015 election with a promise to turn the country into a modern democratic state. But, after international acclaim and a Nobel Peace Prize, global opinion on Suu Kyi soured due to her inaction over the military-led genocide of Rohingya in Myanmar's western Rakhine state, something exacerbated by WhatsApp disinformation.
While the international community has increasingly condemned Suu Kyi, she has remained a popular figure in Buddhist-majority Myanmar.
Her control over the military has always been limited. Under the constitution it wrote in 2008, the military is also guaranteed an unelected 25 percent of parliamentary seats. Known as the Tatmadaw, the military controls defense, interior, and borders ministries, and is given total autonomy from civilian oversight.
It also has a proxy party, the Union Solidarity and Development Party (USDP), which ran military-controlled Myanmar until it stepped down in 2011.
In the 2020 election, the USDP suffered a major defeat, gaining just 33 of 476 available seats.
Following the election, the military claimed that there were duplicate names on voting lists and said that the election commission failed to provide adequate responses to its complaints. Tatmadaw has not published any evidence of its claims.
The election commission said that there were no signs of fraud at a scale that could change or discredit the election outcome. Independent election observers also found no signs of significant issues.
The coup was condemned by the US, UK, Europe, and most of the world, but described as a cabinet reshuffle by Chinese state-media.
Gen. Min Aung Hlaing led the 2017 genocide against Rohingya Muslims. He also heads the Tatmadaw's two conglomerate businesses, the Myanmar Economic Corporation (MEC) and Myanma Economic Holdings Limited (MEHL), which controls ports; copper, jade, and ruby mines; along with numerous other industries.