Amid widespread protests over a disputed presidential election and subsequent brutal police crackdown, Belarus has tried to shut down its Internet.
But the digital blackout appears to so far be limited, and fails to stop apps such as Telegram, allowing protesters to communicate and evade violent police officers. After 61 hours of rolling blocks, the ban appears to be lifting, but issues persist.
It doesn't work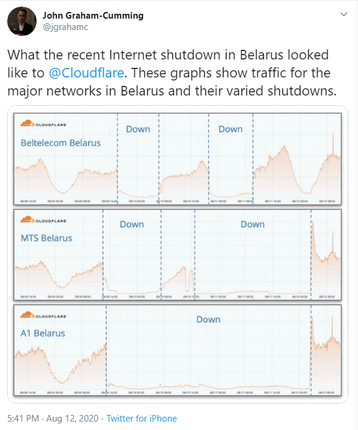 Access to search engines like Google and social media sites like Facebook and Twitter has been successfully blocked, as has access to international and independent local news sites - but they can still be visited using a virtual private network. Downloads of VPN apps on Google and Apple's app stores skyrocketed in the country.
"They didn't manage to turn off Telegram and everything people filmed on the street went through there," Yana Soboleva, an activist at human rights organization Human Constanta, told the Financial Times. "So turning off the Internet was an absolutely meaningless and badly thought through overreaction."
One Telegram channel, Nexta, shares videos from protests around Belarus to its 1.5m followers.
While determined protesters are able to circumvent to Internet ban, it has impacted other areas of the nation's infrastructure, including digital banking, taxi services, maps, and online shopping, which activist group NetBlocks claims amounts to around $56m in lost economic activity per day.
On Wednesday, more than 300 Belarusian tech developers, executives, and investors signed an open letter saying that the environment meant that the tech industry could not function, and continued police violence would likely lead to most of the industry moving abroad.
President Lukashenko - who claimed victory last week in a vote where international election observers were banned, and who has previously admitted to rigging elections - claimed that the shutdown was due to foreign countries.
He claimed outside interference was to blame for the Internet blackout. "Dropping almost all IPv6 from maintenance is a thing that could only be done from "within" - we have never seen such a massive and simultaneous "outside" IPv6 shutdown," researchers at Qrator wrote in a blog post.
IPv6 sessions were shut down by Belpak, the national telecommunication monopoly, and the National Traffic Exchange, which handles almost all of Belarus's connection to the outside world.
The National Science Academy of Belarus bypasses both, and its websites and resources were not impacted by the shutdown.
Internet shutdowns have become an increasingly common weapon in authoritarian regime's fight against their own people, but, as we found last year, they can often backfire.
In non-violent protests, the results proved "very ambiguous and inconsistent," blackout researcher Jan Rydzak told us at the time. "Shutdowns are sometimes effective against peaceful demonstrations, but it's by no means guaranteed. It's practically no different from a coin toss."
It was in violent protests that Rydzak saw a real difference. "Shutdowns are followed by an escalation in violent protests. It's a very strong effect that doesn't just refer to the first day that a riot takes place, but to several subsequent days as well.
"People will always find a conduit for protest. Social media is just a platform for people to vent their frustration and anger. This is just a hypothesis, but it's possible that anger that is normally spilled out on social media can spill out into the streets instead."