Microsoft this week announced a slew of announcements for its space division.
The company successfully trialed an artificial intelligence application in space, and signed deals with Ball, Thales Alenia, and others.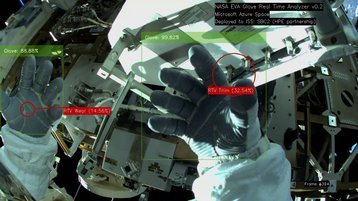 Microsoft helped develop an AI that used space suit cameras to check the gloves of astronauts on the International Space Station.
The AI ran on HPE's Spaceborne Computer-2, based on the ISS. While the AI could have been processed back down on Earth in this instance, that becomes less and less viable as humans travel further from the planet.
In the case of Mars, a 40m round trip to see if gloves are safe in space could be a matter of life or death.
"What we demonstrated is that we can perform AI and edge processing on the ISS and analyze gloves in real time," said Ryan Campbell, senior software engineer at Microsoft Azure Space. "Because we're literally next to the astronaut when we're processing, we can run our tests faster than the images can be sent to the ground."
Sent up in early 2021, the Spaceborne Computer-2 is a 2U system with 1U being an HPE Edgeline EL4000 Converged Edge system, with one CPU and one GPU, as well as 64GB of memory, and 4x 240GB of SSD. The other 1U is an HPE ProLiant DL360 Gen10 server, with two CPUs, 192GB of memory, and 10x 240GB of SSD.
In addition to the AI trial, Microsoft has entered into a partnership with Thales Alenia Space to explore space Edge computing technologies. As part of that, Thales Alenia will place its deploy an on-orbit computer application framework on the ISS as well as Earth Observation sensors by 2023, which will run on Microsoft Azure.
"Thales Alenia Space and Microsoft are pushing one step further their vision of a seamless world between space and digital by soon demonstrating the benefits of space Edge computing for their customers," Hervé Derrey, CEO of Thales Alenia Space, said.
Similarly, Ball Aerospace plans to test some on-orbit computing with Microsoft next year, although it did not specify if it would be aboard the ISS.
Steve Smith, VP and GM of Advanced Technology & Information Solutions at Ball Aerospace, said the two companies are combining their "respective expertise to enable 'smart' satellites that extend the data processing power of the cloud to space."
Ball Aerospace recently demonstrated a data transfer from a Telesat LEO satellite to a data center and tactical vehicle, where it was processed in Azure.
Elsewhere, Microsoft said that it had delivered a proof of concept with Intelsat that demonstrates the ability to establish an Azure private 5G network using satellite communications as a backbone to Azure.
It also demonstrated that orbital ground station-as-a-service partner SES and Nokia could access its cloud platform using private 5G and satellite communication (SATCOM) network.
Outside of Microsoft, this week saw space-as-a-service company Xplore acquire the assets of Kubos. That includes its cloud-based flight control software platform for satellites that allows operators to perform ground station scheduling, satellite tasking, and telemetry monitoring.