Microsoft has teamed with South Korean solar panel maker Hanwha Qcells to ensure a steady supply for up to 2.5GW of solar panel capacity, manufactured in the US.
Microsoft will help Qcells establish a US supply chain, with a manufacturing plant planned in Georgia. The cloud giant will use Qcell's solar panels globally in power purchase agreements (PPAs), in which Microsoft funds the creation of entire solar and wind farms, creating renewable power capacity to match the energy used in its data centers.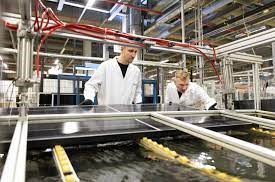 Microsoft has committed to run on 100 percent renewable energy by 2025, and then to be carbon-negative and water positive. by 2030. Under its agreement with Qcells, Microsoft could add as much as 2.5GW of solar PPA capacity to its operations. (it currently has around 8.9GW).
The agreement is unusual in that it sees a large consumer of energy reaching further up the supply chain than normal, to deal directly with a solar panel manufacturer. Qcells will develop solar projects with Microsoft, and provide panels as well as engineering, procurement, and construction (EPC) services to Microsoft's solar PPA projects.
It also addresses a US concern, that solar panels are largely made in China. President Biden has reduced tax barriers on foreign solar panels supplied to the US but has also expressed a wish for local manufacture, and supported solar generation in the Inflation Reduction Act.
Qcells will build a new factory in Bartow County, Georgia, which will manufacture 3.3GW of solar ingots, wafers, cells, and finished modules per year. It also has a facility in Dalton, Georgia, which assembles modules, with a capacity of 2GW of modules per year. Qcells plans to add a further 5.11GW of capacity to Dalton, bringing its total output in Georgia to 8.44GW in 2024.
"Today's Hanwha Qcells announcement to make the largest solar investment in US history is a big deal for Georgia's working families and the American economy. And, this investment is a direct result of my economic plan and the Inflation Reduction Act," said a statement from President Joe Biden. He said the investment would "create thousands of good-paying jobs in Georgia, many of which won't require a four-year degree. It will bring back our supply chains so we aren't reliant on other countries, lower the cost of clean energy, and help us combat the climate crisis. And, it will ensure that we manufacture cutting-edge, solar technology here at home.
Microsoft and Qcells say their action will help provide a supply chain for solar power installations in the US - with Qcells claiming it will be the only company in the US with a complete solar supply chain that provides one-stop solar systems.
"Building a resilient solar energy supply chain is essential to advancing a global green energy economy. Microsoft's partnership with Qcells will help make this vision a reality by bringing innovation and investment to rural Georgia," said Brad Smith, vice chair and president, of Microsoft. "As one of the world's largest purchasers of renewable energy, this work will help bring more solar energy to the grid, faster."