President Biden has relaxed tariffs designed to block imports of solar panels originating in China, because reports found that a shortage of panels was stalling clean energy projects in the US. At the same time, the President promised to use procurement legislation from 1950 to boost domestic production of solar energy equipment
In an executive order issued on Monday, President Biden announced a two-year break from tariffs on solar panels coming from Cambodia, Malaysia, Thailand, and Vietnam. which had been imposed to prevent Chinese manufacturers from dodging tariffs by exporting through other countries. He also proposed to accelerate domestic solar panel production, using the Defense Production Act (DPA), a piece of legislation designed to use government control to stimulate key industrial sectors.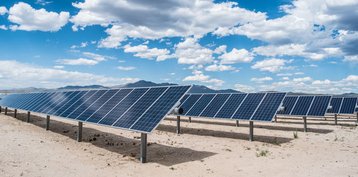 The actions follow concern that tariffs blocking Chinese solar panels would halve the rate of solar panel installation in the US.
A solar power bridge
Data centers are increasingly using power purchase agreements (PPAs) to pay for the installation of clean power such as solar farms, but such projects could be difficult to complete in the US, because of a looming shortage of solar panels caused by tariffs designed to protect a US solar panel which is struggling.
President Biden wants to have a US-based solar industry, but the country currently makes around three percent of the world's solar equipment, with the majority coming from China. the executive action says moves to block Chinese panels are counterproductive in the short term, so it proposes creating a "bridge" to a US-based industry, but allowing imports from those third-party nations, for a two-year period, while promoting homegrown solar panels.
"While President Biden continues pushing Congress to pass clean energy investments and tax cuts, he is taking bold action to rapidly build on this progress and create a bridge to this American-made clean energy future," says the order.
The order proposes to accelerate domestic production of clean energy technologies, including solar panel parts; using the Defense Production Act (DPA), a piece of legislation passed during the Korean War, allowing the government to intervene to ensure the production of necessary equipment. The details are not clear, but Reuters reports that there will be loans and grants
Biden's order also calls for federal agencies to use procurement to stimulate domestic solar manufacturing capacity, using large orders for solar power equipment from US providers, giving them "super preference" status.
Finally, the tariff holiday is proposed a strictly limited 24-month period "to ensure the reliable supply of components that US solar deployers need to construct clean energy projects and an electric grid for the 21st century, while reinforcing the integrity of our trade laws and processes."
After the holiday ends, the Department of Commerce will resume levying penalties on companies evading import taxes by exporting Chinese solar panels to the US through third-party countries.
The order also applies to other clean energy equipment, including heat pumps, building insulation, electrolyzers for hydrogen production, as well as transformers and other grid balancing equipment.
Before this action, there were fears that a Department of Commerce investigation might lead to an even tighter squeeze on solar panel imports, with retroactive tariffs of up to 250 percent applied to goods that had been channeled through other Asian nations.
The Biden administration says the US can triple its solar manufacturing capacity by 2024. According to The Verge this will be essential to enable the US to meet a promise to halve its emissions this decade.