Microsoft has purchased a parcel of land in Silver Springs, Nevada, with the company hinting it will be developing a data center on the site.
"Microsoft has purchased just under 274 acres of currently vacant land for $16.425 million," Brian Armon, SVP at real estate firm NAI Alliance told 2News. "And we believe there will be a technology center very similar to what Apple and Google have built within the region."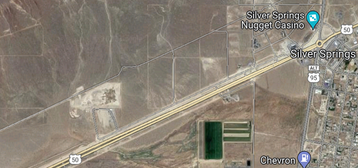 The parcel is off Highway 50 to the west of central Silver Springs, a city located outside Reno in Lyon County. The deal reportedly closed last month but terms were not disclosed.
When asked about the scope of the project, a Microsoft spokesperson told 2News: "We are continuing to expand our cloud infrastructure in response to growing customer demand. Data centers are large-scale and complex projects. We will share more updates as the project progresses."
"We're excited to see high-tech companies coming to the area," said Jeff Sutich, Executive Director of the Northern Nevada Development Authority. "It's really beneficial for rural Nevada. They bring in high-paying jobs, they bring in large capital investments which create large tax revenues for the counties they land in, and the infrastructure they bring to the area helps jumpstart new community and industrial developments."
Switch, Apple, eBay, and Google all have a data center presence in the Reno area.
"Our reliable supply of power, our competitive rates of power, green energy initiatives, our proximity to all the major western markets, our lower tax climate, and the business-friendly structure, that's all huge competitive advantages other states don't have," Sutich said. "And that helps entice companies to come to our area."
Microsoft launches data center in Douglas County, Washington
In other recent Microsoft news, the company last month launched a new data center in Douglas County, Washington.
The Douglas County Empire Press reports the company launched a 241,000 sq ft (22,400 sqm) facility on Urban Industrial Way in East Wenatchee, with a ceremony attended by executives, data center employees, and local politicians.
Microsoft spent $19.3 million to purchase 170 acres of undeveloped land in East Wenatchee in 2020. Up to two more buildings are planned for the site.
Sabey Corporation has a data center close by in Douglas County, totaling three buildings on a total of 44.44 acres. Yahoo Japan subsidiary Actapio Inc. also has a presence in the county. Both Actapio and Sabey are supplied with power from Wells Dam, but Microsoft will buy its power from the wholesale market instead.