Microsoft has installed a backup power system based on "liquid metal" batteries from Ambri, which could be a better bet than lithium-ion batteries for replacing diesel generators in future.
The announcement gives no details of how much battery capacity Microsoft has acquired, or where it has been deployed, but the batteries are part of a UPS system successfully commissioned by Schneider Electric. Ambri is a startup whose battery technology is still being commercialized, but it has the potential to deliver backup power more cheaply and efficiently than lithium-ion batteries, possibly making the batteries an economic replacement for diesel generators.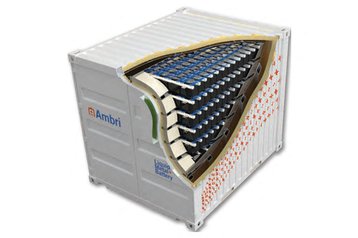 "The system is part of a multi-phase program that enables Microsoft to reduce the need for diesel generation, allows for constant renewable power from any source, and provides access to ancillary services markets," is all the detail given about the scale of the deployment.
Backed by Bill Gates
The Ambri batteries use electrodes made of calcium alloy and antimony electrodes, with a molten salt electrolyte. They can be produced more cheaply, than lithium-ion batteries because the production process has fewer steps, the company claims.
The batteries operate at a high temperature of 500°C (932°F), but aren't in danger of thermal runaway, decomposition, or off-gassing. They are expected to have a lifespan of more than 20 years (around double that of lithium-ion), and be useful for applications that require high energy capacity a long life and high efficiency, such as backup. They also support frequent cycling. As they are a lot heavier than lithium-ion systems, they're aimed at stationary applications like backup.
The high operating temperature means that the batteries don't need cooling systems. They are installed in thermally insulated containers, within which the batteries themselves produce enough heat to reach the operating temperature.
Ambri was founded in 2010 by Professor Donald Sadoway of MIT, and has raised money from Khosla and Total, with the largest shareholder being (by coincidence) Microsoft founder Bill Gates.
Although antimony is not a common element, Ambri has a deal with mining company Perpetua Resources, announced in 2021, for enough antimony for 13GWh of battery systems, which will be mined in central Idaho. 
Ambri is running pilot tests with up to six partners, and plans to develop full-scale standardized containerized systems with 1 MWh capacity, that will be shipped in 2025 to customers. It plans to deploy its batteries at TerraScale's planned data center campus in Reno, Nevada.
Another test system recently announced will be installed in Aurora Colorado by US utility Xcel Energy to test the systems' use in grid-scale backup.
Adam Briggs, chief commercial officer at Ambri, said: "Ambri's batteries will help improve Microsoft's data center operations while delivering important environmental and commercial benefits. With the commissioning of this project, Ambri is demonstrating how advanced, sustainable, and versatile our technology truly is. We look forward to continuing our partnership with Microsoft as we help them to reach their sustainability goals."
"At Microsoft, we are committed to pursuing progress toward 100 percent renewable power and replacing diesel backup generators by 2030, while providing reliable service to our customers. The technology solutions developed by Ambri and Schneider Electric provide a pathway to accomplishing these goals," said Upshur Quinby, energy innovation manager on Microsoft's data center advanced development team.