Microsoft has reportedly stopped accepting new customers for some UK-based services, as server shortages hit its data center rollout.
The Telegraph reports that Microsoft's two British regions, UK South and UK West, have stopped accepting new customers for Cosmos DB and virtual machines.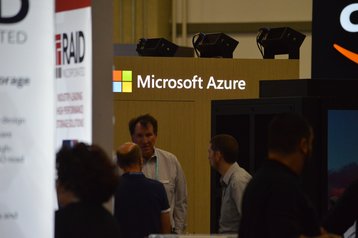 In a message seen by the publication to managed services provider QuoStar, Microsoft said: "Unfortunately, due to high demand in this region (UK South), we are not able to approve your request at this time."
The message offered a "bi-monthly" update on whether services would be available in future.
The Telegraph tries to pin the blame for the lack of service on the headline-grabbing Ukraine war, saying that it is due to the company agreeing to host "Ukraine's entire government on its remote servers."
This is not entirely accurate. Following Russia's unprovoked invasion, Ukraine first shifted data to its safer western edge, before moving much to an unidentified private cloud service in Poland. It is also negotiating with France and Estonia for a similar deal.
Some Ukrainian government services have indeed moved to Microsoft Azure, with the company claiming it has helped shift 16 of the 17 government ministries to the cloud - with Microsoft president Brad Smith saying the load is spread across Europe.
The scale of the hosting was not disclosed, but Microsoft previously said that its tech support to the Ukrainian government - which also includes AI tools and cybersecurity - totals around $100 million. Microsoft has spent more than $12 billion on its European data centers over the last two years.
While the addition of the Ukrainian government and corporate workloads will have added further strain to Microsoft's European data centers, the cloud provider is struggling with a wider supply issue.
Last week, The Information reported that Microsoft data centers around the world operating with limited server capacity available to customers amid a global server supply shortage.
More than two dozen data centers are operating with limited server capacity available to customers, with server capacity at more than half a dozen Azure data centers expected to remain constrained until early next year.
The data center industry has been hit by widespread supply shortages across the spectrum, in particular semiconductors. Chip shortages are expected to continue for years, and have slowed server rollouts in data centers around the world. Among them was video game publisher Square Enix, which could not launch data centers due to server shortages, rendering the popular game Final Fantasy XIV inaccessible for many.
A Microsoft spokesperson told DCD: "Across the globe, we have seen unprecedented growth in the cloud. With this surge, coupled with macro trends impacting the whole industry, we've taken steps to address customer increases in capacity while also expediting server deployment in our data centers.
"Our priority remains ensuring business continuity for customers. In addition to managing and planning for growth, we actively load balance as needed. If it does become necessary to put capacity restrictions in place, we will first restrict trials and internal workloads to prioritize growth of existing customers."