IT experts from the physical and logical infrastructure layers collided on DCD at CeBIT's two open stages in hall 12, cementing the event as the world's largest and most comprehensive international "full stack" data center event in Hannover on 14-18 March. The DCD Converged Stage tackled topics such as energy efficiency, and design and build, to servers and storage, and security and cloud deployments, whilst the StackingIT stage was dedicated to open-source technologies across the entire IT stack.
A key focus of the event in hall 12 centred on hybrid IT deployments. "The cloud has taken off with SMEs in Germany. Multi-cloud environments will continue to set the tone," noted Rene Büst, Senior Analyst and Cloud Practice Lead at IT consulting firm Crisp Research. During his presentation at the event on Cloud trends in 2016 and beyond, he also discussed how, "Within this context, microservices architectures are set to be key enablers for the hybrid IT landscape."
Microservices as the next stage of IT evolution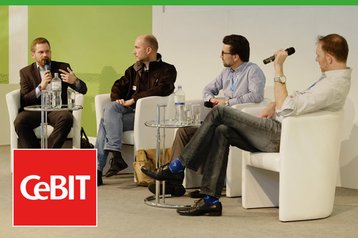 The microservices topic was evaluated further by Gunnar Menzel, VP and Chief Enterprise Architect at Capgemini during his presentation, The data center in the age of microservices. "Microservices represent the next step in IT evolution," observed Menzel. "Traditionally IT architectures have been built monolithically. With the rise of Service-Oriented Architectures and microservices, we are now experiencing a fundamental shift in the data center, and IT leaders must adapt to this shift by rethinking their data center strategy."
Big debates on Big Data and IoT storage challenges
Another central discussion at the event was on Big Data and how organisations in Europe can overcome data storage and scalability challenges, whilst staying compliant and secure in hybrid IT environments.
Lance Smith, the CEO of the start-up venture Primary Data, unveiled the company's breakthrough storage-agnostic platform for storage infrastructure which is the company's bid to help accelerate the industry towards the software-defined data center. During his talk, he outlined how the emerging virtualised platform aims to connect different storage systems for seamless data migration between storage tiers, enabling IT leaders to manage their data rather than silos.
Storage heavyweights such as FalconStor, Nimble Storage, Supermicro and Nutanix also shared their vision and exchanged best-practices on solving the core challenges facing today's modern data centers, helping IT leaders on their journey towards the software-defined enterprise.
If you would like further information on any of the sessions that took place at the event, are interested in being involved in DCD at CeBIT 2017, or would like any further information on DatacenterDynamics, please contact [email protected].