Meta, the company formerly known as Facebook, is to expand its Odense data center campus in Denmark.
The company said it plans to add two more buildings to the campus totaling around 90,000 sqm (969,000 sq ft) taking the total floorspace to nearly 200,000 sqm (2.1 million sq ft). Construction is scheduled to begin in April 2022.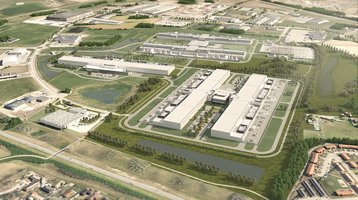 Reports that Facebook were looking to building in Denmark surfaced in 2016, before the company confirmed in 2017. The initial 55,000 sq m (592,015 sq ft) development came online in 2019. The company announced a 30,000 sqm (323,000 sq ft) expansion last year. Once completed, the company said it will have invested more than 13 billion DKK ($1.97 billion) on the project.
The Odense Data Center is supported by 294MW of renewable energy from two wind projects and is connected to the Odense district heating system.
"Odense has been a great location for our data center since the beginning and we are honored to be part of this city, the company said in a post announcing the news. "It provides good local infrastructure, a strong pool of talent, and great community partners. "
"I am very happy that Meta has chosen to expand its data center in Odense. Invest in Denmark is proud to have worked with Meta to make the expansion happen. This new investment shows that Denmark is a perfect location for green digital investments," added Steen Hommel, Director of The Trade Council & Global Sustainability.
Facebook previously had plans to develop a second Danish campus in Esbjer but scrapped the idea in 2019. However, this year it returned to those plans and acquired 212 hectares of land in Andrup in Esbjer at a price of DKK 277 million ($43 million).
"We recently resumed our studies of Esbjerg as a possible site for a future data center and bought 212 hectares of land," said Facebook spokesperson Lukasz Lindell. "In the coming months, some initial, preparatory work will be carried out, which will help to support the further development of the area."
Facebook's other European facilities are located in Luleå, Sweden, and Clonee, Ireland. Apple also has a large Danish data center, in Viborg.
More in Construction & Site Selection